Viet An visits old customer buying ice cube making machine in Vinh Phuc
You need opening an ice cube factory, but you have not chosen the reputable establishment and the reasonable price? So, look to Viet An General Trading Joint Stock Company with 20 years of experience in the field of manufacturing and supplying various types of ice cube machines from 1 ton to 100 tons. Especially, the prices we offer are always the most competitive on the market today, committed to cheaper ice making machines on the market from 10-15%. When choosing Viet An we always bring our customers the best quality products to ensure 100% customer satisfaction.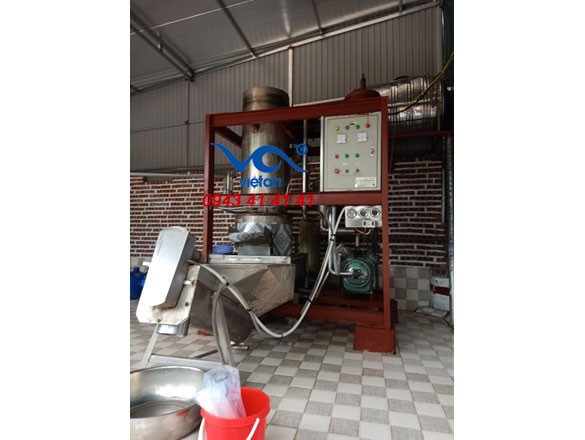 Viet An ice machine was installed for Mr Tai in 2014
Director Nguyen Cong Hoan visits Mr Tai's ice machine workshop in Hoang Dan - Tam Duong - Vinh Phuc
Recently, the director of Viet An - Mr Nguyen Cong Hoan had a chance to come back to Hoang Dan - Tam Duong - Vinh Phuc to visit Tai's ice machine factory with safe production scale - meeting the requirements of the Ministry of Health. Given that his workshop has been growing strongly, customers are increasingly relying on the ice cubes produced by his facility.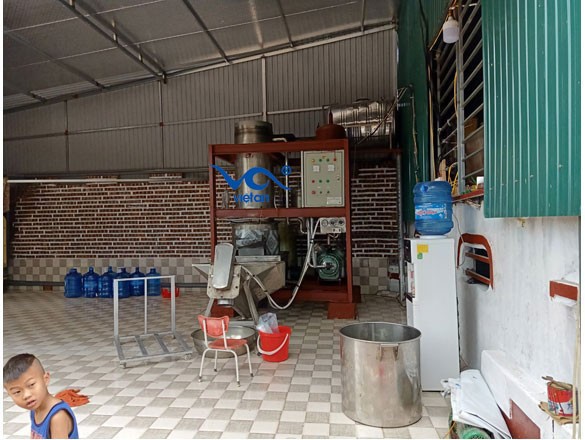 The production facility of pure ice of Mr  Tai - Vinh Phuc
In 2014, Mr Tai trusted and chose Viet An to buy ice making machine, with the purpose of producing pure ice for the people here. Due to increasing demand in summer, his facility must operate at full capacity with the ability to consume ice cubes 3 - 4 times higher than other times and still not enough to meet consumer needs.
Vinh Phuc is a province that is developing strongly, especially tourist attractions, the production of ice cubes for restaurants and hotels is increasingly exciting. Meanwhile, clean stone business establishments in Vinh Phuc are always in a state of "sold out", leading to other business units such as restaurants, hotels, seafood production and processing establishments ... fall into a "passive" position in using clean ice for their business activities. Typically in the hot, peak days, the price of clean ice increases by 3-4 times the normal price.
Over 5 years, Mr Tai's ice making machine has been operating steadily and stably - 100% pure ice.
Purchasing the machine from 2014 to now, Mr Tai has been working with Viet An ice machine for 5 years. Mr Tai shared, "Thank you very much to Viet An thanks to Viet An ice cube making machine, I am stable and develop the family economy, not only that it can solve the dirty ice situation in my locality. It is expected that in the near future I will expand my business to the surrounding areas and I will upgrade the ice machine to increase the supply to the market. "
At present, Mr. Tai's ice cube making machine operates stably, the quality of ice cubes reaches 100% purity. Because the machine you choose has many advantages such as:
The machine is assembled according to strict international standards ISO 9001-2015 which is the only international standard granted in Vietnam
Ice cube making machine produces pure ice cubes meeting QCVN 10: 2011 / BYT standards for instant ice
With a modern fully automated machine system, closed process with the contact of human hands, Mr. Tai only need to manipulate with just one button on / off - wait for ice output and close the bag to move away consume.
With compact design saves the area. The whole system under high pressure is made of iNox to ensure a life of over 15 years. Thanks to this material, the process of cleaning and hygiene also becomes easier.
The components are imported from developed countries like the USA / Japan and are applied the most advanced technology.
Viet An's Ice making machine - Your trusted companion
We provide ice making machine to the market not only as a responsibility but also as the MIND of the manufacturer in order to bring customers the best quality products. With many other suppliers of ice machines, they use many tricks to "PR" to promote the product, but when the customer buys the product, they neglect it, even if the machine has a problem, look for a reason for the delay, not warranty maintenance as what is committed.
But with Viet An, the opposite is true, not only for new customers, but for all customers who have bought Viet An's products even though
5 years or 10 years when customers need us are ready to advise and support as soon as possible.
We always put the interests of our customers first because "customers are the core values ​​that determine the existence of Viet An - customer trust is our greatest success".
Thank Mr Tai for trusting in choosing Viet An as a companion. Hopefully, his plans will be successful in the future and he will continue to choose to cooperate with Viet An.
Customers wishing to learn about pure ice machine or other products such as filling machines, water filtration lines, bottle blowing machines, bottle blowing ... Please refer to the website: vietan.vn or contact Contact us via the hotline: 0949 41 41 41. Việt An are happy to support!