Warranty bottling filling line, jar filling line for Father Vang
As a familiar customer of Viet An, this is Mr Vang in Hai Phong. Viet An has had many opportunities to cooperate with father many times signing contracts. with Viet An, father is not only a mere customer but also a reliable companion of mine over the years. Recently, Viet An has carried out warranty for its filling line under the contract of 1008/2019 VACGF3000 bottle filling line and VAQGF150 bottle filling line.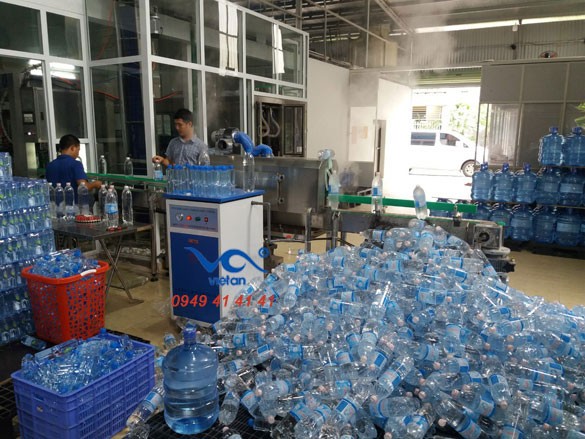 Filling line installed for Father Vang in Hai Phong
About the contract of 1008/2019 father Vang in Hai Phong
Father Vang signed a contract of 1008/2019 with Viet An including bottling and jar filling machine with many outstanding advantages, these are the two most modern lines of bottling and jar filling machines applied with technology. modern from the United States assembled according to ISO9001: 2015 standards are imported and distributed by Viet An in Vietnam.
VACGF 3000 automatic filling machine with full capacity and different bottle capacity reaches the number 1 quality in Vietnam. it is an advanced and modern product applied the latest technology from the US and many large industrialized countries in the world. With a preferential price and always lower than similar filling machine products on the market.
The device is a quite compact design, does not make the manufacturer take up too much area, modern design with 304 stainless steel material to look more beautiful and firm, have longer use time.
VAQGF150 bottle filling machine applies advanced production technology, automatically rinses, rinses the bottle with RO pure water and automatically fills and closes the water, ensuring to meet the requirements of food hygiene and safety of the Ministry of Health.
VAQGF150 automatic 3-in-1 bottle filling machine is specialized for pouring water into a 20L tank with a capacity of 150 bottles / h.
The device is designed to intelligently protect when there is no bottle, the machine stops working without filling, helping to handle situations of empty bottles or problems of stuck. In such situations, the system automatically prevents the pumping system from discharging the material, minimizing the source of water loss.
The warranty process for Father Vang is as follows:
The warranty for the filling line for Father is 12 months and long-term maintenance. When the technician arrives, he will carry out a full-house inspection of the system, just like the warranty for other equipment, and Mr Vang knows the warranties and the non-warranties.
Conditions of warranty
Products still in the warranty period
The warranty card with full information: model, serial number, date of manufacture, customer name, phone number, address, date of purchase ... Warranty stamp must be intact, not torn, not erased.
Damage due to component quality or manufacturer's manufacturing process failure
The case is not under warranty
Products are installed, maintained, or used improperly according to Viet An instruction manual, causing damage.
There is no warranty when the machine is damaged due to external forces and water sources (Customers cause defects, falls, scratches, etc.)
Damages caused by accidents, natural disasters, floods, lightning strikes, transportation ...
The product is damaged due to the use of the wrong voltage, there are signs of fire and water pressure are not guaranteed.
Products are changed and repaired by technicians not belonging to warranty stations or authorized warranty stations of Viet An Genereal Trading Joint Stock Company
The product has expired warranty or the warranty stamp has been torn
When determining the cause, what is broken? where ?. Viet An will offer the fix method as quickly as possible so that Father Vang can continue the production process as quickly as possible.
After checking all parts of the filling system, the technician will make necessary adjustments, repairs if any, and clean the entire line to ensure stability during long-term operation.
In addition, even if the product does not have any malfunction or failure, Viet An still performs periodic maintenance of the line, asking customers about the status of the operation to bring to Father Vang. Like all customers, peace of mind about product quality, belief in service quality of Viet An.
The warranty process of Viet An, besides checking the operating quality of the filling line, the technician will also ensure thorough operation of stable, most favourable installation environment to create conditions for the line has the longest service life. This activity is carried out in all regions of the country.
Customer's comments and suggestions about products and services are always a great motivation for Viet An and we are always acknowledged to constantly improve and improve the quality of products and services. Thank customers always trust and use the products of Viet An.
Viet An General Trading Joint Stock Company, formerly known as Viet An General Trading Co., Ltd., has been equitized since August in 2009, is a leading enterprise in importing and distributing RO pure water filtration line and Filling machine, manufacturing stainless steel ice maker machine Exporting brand VA, USApec, Vinaro No. 1 in Vietnam. With four branches and two factories, Viet An has been meeting the needs of domestic and foreign users as well as the warranty, thoughtful maintenance and responsibility to provide customers with services the best.