Warranty for 10 ton ice cube making machine for customer in Cambodia
Not only focus on a methodical and professional investment in research activities, production, distribution of high-quality pure 10-ton ice cubes products, in order to minimize errors that can be emitted. During the operation process, Viet An Company is also a pioneer in the market of after-sale services such as warranty, maintenance and repair of customers' ice machines.
On January 30, 2019, Viet An Trade and Service Joint Stock Company sent technical staff to Cambodia to warrant 10-ton ice making machine - IVA10T for Mr Loi under the contract No. 003/2019 signed.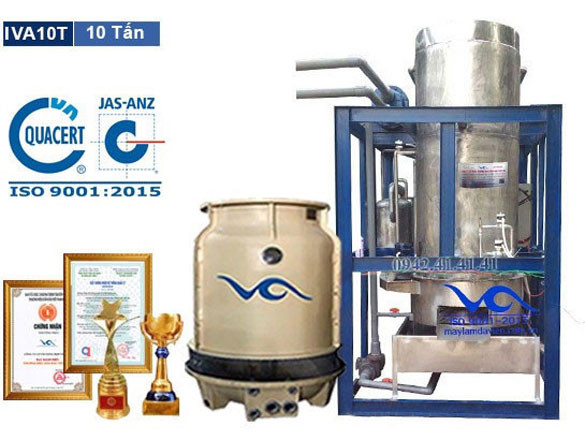 Viet An is a unit providing warranty for ice cube making machine 10 tons number 1.
Currently, business units such as restaurants, coffee shops, milk tea shops, fast food restaurants, hotels, seafood shops, hospitals, schools, industrial parks, ... once Mr Loi has decided to buy a machine made genuine ice cubes making machine from Viet An, it can be completely assured because all the ice making machines of the company are controlled with international standard quality, Italian technology and components imported from Germany, France and America. , Japan, Korea. Besides, Viet An also applies 24-month warranty and lifetime maintenance service with the ability to serve 24/7.
With a high level of skill, well-trained and experienced in the field of industrial electronics, Viet An technicians will always be present when customers need to carry out warranty, good maintenance or repairing ice machines quickly and efficiently throughout the provinces and cities of the country such as Hanoi, Vinh, Hue, Nha Trang, Bac Can, Cao Bang, Lao Cai, Tay Nguyen, Ho Chi Minh and Can Tho, ... or Southeast Asian countries such as Laos, Cambodia, ...
About IVA10T ice making machine 10 tons
- Exquisite design streamlined, durable and beautiful
10-tons stainless steel ice making machine has a very compact design, flexible in transportation and easy to use. Made from genuine imported stainless steel from advanced industrial countries in the world such as America, Italy, Japan, ... it helps the machine possess shiny shell, easy to clean, not afraid to be lost worn over time.
- Powerful cooling system
10-tons ice cubes machine is applied cooling technology combining water and wind. Operating all day long with such a large volume of ice will certainly make the machine very hot but thanks to the air-cooled system, the engine is cooler, increasing working efficiency. On the other hand, thanks to the optimal cleaning technology will help completely destroy bacteria as well as toxins harmful to users' health.
- Saving power consumption
Although it has an outstanding capacity, up to 10 tons of ice a day, 10-tons ice making machine - Viet An's IVA10T consumes only very little electricity with about 80% of the capacity of other ice cubes making machine. Mr. Loi saves considerable costs. Equipped with a power-saving system, especially the outer protective shell from stainless steel, the ability to keep heat stable, the cooling is pushed faster.
- Warranty and maintenance regime
In Viet An, Anh Loi is supported with a long-term warranty for 12 months. In addition, Viet An also builds staff to repair, maintain, warranty and maintain the best after-sales service for customers after the warranty period with 10-ton ice cubes making machine.
Warranty IVA10T ice machine for Mr Loi
warranty and maintenance of 10-ton ice making machine as well as many other ice machine product lines of Viet An Company, we are always complied with strict procedures to accurately check all parts of machines such as cooling fans, compressors, pumps, ice troughs, ice trays, electronic circuit boards, electrical systems, gas machines, raw filters, throttle valves, condensers and some other parts. In addition, Viet An's technical experts will also consider the rate of defrosting, young or old of finished ice, cleanliness of the inlet water, outlet drainage ..., At the same time, checking the quality of ice machine operation, the technician will also ensure that the machine has the best-operating conditions and installation environment to facilitate the machine with the longest life.
After checking all parts of the 10-ton ice making machine, Viet An technicians have conducted necessary adjustments and repairs and cleaned ice machines to ensure stability in long-term operation.
If you want to buy 10-ton ice maker or other products such as Viet An's water purification line, filling machine, please contact us today.