Warranty for a water filtration line for Ms. Thanh in Tien Giang
Viet An General Trading Joint Stock Company, formerly known as Viet An General Trading Co., Ltd., has been equitized since August 2009, is a leading enterprise in importing and distributing RO pure water filtration line and Filling machine, manufacturing stainless steel ice maker machine Exporting brand VA, USApec, Vinaro No. 1 in Vietnam. With four branches and two factories, Viet An has been meeting the needs of domestic and foreign users.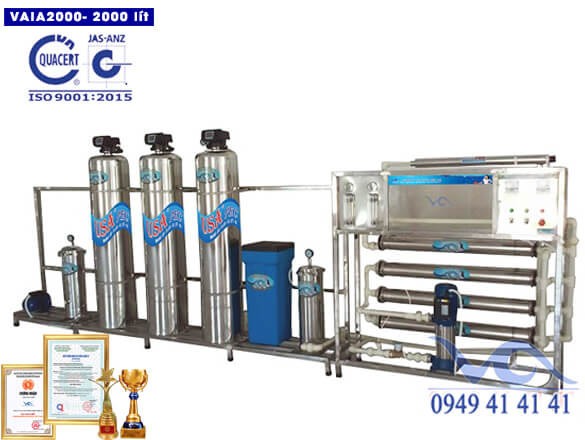 VAIA 2000l / h water filtration line
Not only reputable Viet An products, but we also have thoughtful after-sales service, with 1-year warranty policy and long-term maintenance. Viet An is committed to being the first choice of every customer. To carry out the warranty for the water filtration line, filling machine, bottle blowing machine and ice machine, you only need to contact 1900 6013 our technical staff who will arrange the technician to come to your factory immediately. you to carry out the warranty, maintenance.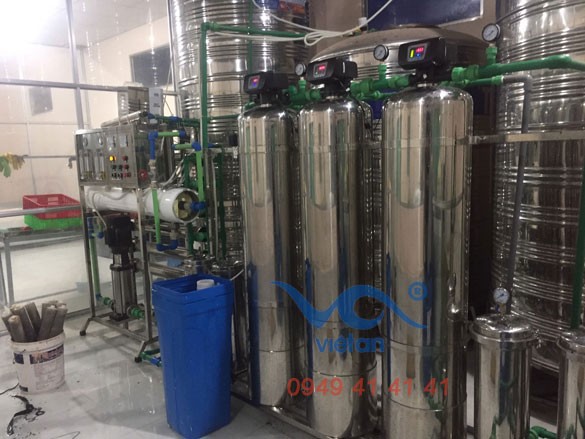 Viet An has guaranteed the VAIA 2000 liter / h water purifier line for Ms Thanh in Tien Giang
For the line of industrial machinery, the broken is inevitable, but finding a reputable maintenance and maintenance unit is a problem for many customers. When choosing Viet An customers can be assured that we will resolve the warranty period for you as quickly as possible to avoid affecting the production process.
2000 liter water filtration line installed for Ms Thanh - Tien Giang
In 2018, Ms Thanh in Tien Giang bought a water filtration line of Viet An under the contract No 125 VAIA2000-2000l / h, when an incident occurred, she called the call center 19001063 of Viet An for assistance. Right after that, Viet An planned to send skilled technical staff to Tien Giang to provide warranty service for her.
Viet An General Trading Joint Stock Company has a strong point of producing, importing and distributing products with good prices and a team of highly qualified and experienced technicians. Viet An always strives to provide customers with the best service.
Advantages of VAIA water filtration line that Ms Thanh chooses
Optimum water filtration capacity of VAIA2000 pure water filtration system
VAIA2000 pure water filtration system will give Ms Thanh a super clean water, ultra-pure water source because the filtration system itself has applied RO technology with RO membrane with the smallest and the smallest of all the membrane filters available today. The size of the RO membrane filter is only about 0.0001 micro meters, so when conducting water treatment, only water molecules can pass through the RO membrane to 99.9% metal ions, impurities, virus, harmful bacteria will be trapped and excreted through sewage. Output water after the filtration process is purified water meeting the 6-1-2010 / BYT standard of the Ministry of Health and can be drunk directly without boiling.
VAIA2000 - purifies pure water from many different water sources
When choosing to buy RO water filtration line system capacity of 2000 liters / h using stainless steel filter column auto valve this is a super product of the ability to filter and treat water. This device is capable of filtering almost all current water sources such as river water, well water, rainwater, alum water, tap water ... to create clean pure water source, so it will meet the various demand of users.
Help you have a healthy body
Using the VAIA2000 RO water filtration system of Viet An, you will have the purest water source, your body will be completely protected from common diseases originating from polluted water. For example, dysentery, helminths, typhoid, cholera, ...
All viruses, amoeba bacteria, impurities, toxins such as arsenic, substances harmful to human health dissolved in water will be removed by RO membrane applied in filtration and treatment systems. VAIA2000 pure RO water.
VAIA2000- The filtration system has the longest service life.
The use life of the product is always a problem that receives a lot of attention. With the filtration system, so is pure water production. With a system of components imported directly from the United Kingdom, the United States, the Netherlands, South Korea ... with high durability, ISO 9001: 2015 production standards again use high-grade 304 stainless steel filter columns, so the water filtration process The system is always stable, the use time of the system can be up to over 15 years - and this is the oldest filtration system today.
Warranty process for Ms Thanh is as follows:
When the technician arrives, she will carry out the whole system inspection, just like the warranty for other equipment, Ms Thanh understands the warranties and the non-warranties.
Warranty conditions
Products still in the warranty period
The warranty card with full information: model, serial number, date of manufacture, customer name, phone number, address, date of purchase ... Warranty stamp must be intact, not torn, not erased.
Damage due to component quality or manufacturer's manufacturing process failure
The case is not under warranty
Products are installed, maintained, or used improperly according to Viet An instruction manual, causing damage.
There is no warranty when the machine is damaged due to external forces and water sources (Customers cause defects, falls, scratches, etc.)
Damages caused by accidents, natural disasters, floods, lightning strikes, transportation ...
The product is damaged due to the use of the wrong voltage, there is a sign of fire and water pressure is not guaranteed.
Products are changed and repaired by technicians not belonging to warranty stations or authorized warranty stations of Viet An General Trading Joint Stock Company
The product has expired warranty or the warranty stamp has been torn
When determining the cause, what is broken? where ?. We will offer the fix method as quickly as possible so that Ms Thanh can continue the production process.
After checking all the parts of the water filtration line, the technician will make necessary adjustments, repairs if any, and clean the entire line to ensure stability when operating in the long run.
Besides, even if the product does not have any malfunction or failure, Viet An still performs periodic maintenance of the line, asking customers about the status of the operation to bring to Ms Thanh as well. Like all customers, peace of mind about product quality, belief in service quality of Viet An.