Warranty of 3 ton ice making machine in Ben Tre
Founded by a group of experienced, enthusiastic and knowledgeable professionals about the needs of customers, Viet An is a pioneer in the field of manufacturing and distributing 3 tons of ice cubes for health. users, while helping business units save costs.
On February 13, 2019, Viet An sent technical staff to the stone production facility of Mr Nguyen Van Thang at Phuoc My, Mo Cay Bac, Ben Tre to warranty IVA3T ice maker - 3 tons for him under contract No. 975/2018.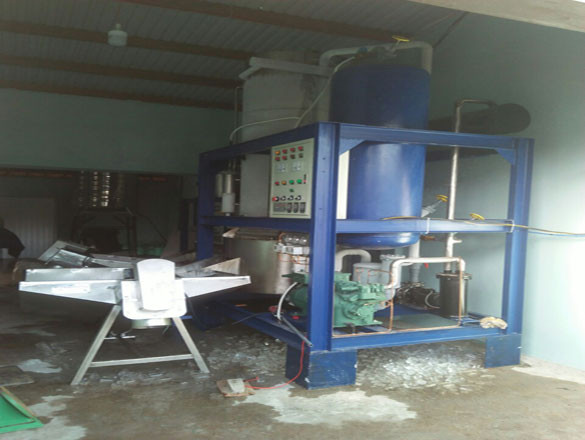 Warranty of Contract No. 975 3-tons ice making machine - Ben Tre
Structure of 3-tons ice cube making machine
Stainless steel tube ice mould (inox304)
Refrigerant: R22
Ice cutting knife: Made of stainless steel controlled by gearbox motor designed specifically for the production of cylindrical ice.
Ice cutting motor: Designed to take on the function of cutting ice cubes in standard size
Water pump: The centrifugal pump is cast in cast iron, large enough to circulate the amount of water that will be frozen several times and create a transparent crystal ice film.
An ice bucket is made of stainless steel (stainless steel 304) to ensure hygiene.
The gas valve and defrost valve imported from Denmark or Japan operate stably, long life.
Condenser imported from USA / JAPAN.
German compressors operate stably, have high durability, run smoothly without causing much noise.
Control panel: Access to the dynamic panel system that performs the production process accurately and reliably from year to year.
The reason why Mr. Thang chose Viet An is the installation and warranty unit of 3 tons of prestige ice machine
3-ton ice making machine of Viet An is an international standard product with equipment production line standardized according to Italian technology, meets ISO 9001: 2015 standard.
In addition, to improve product quality, the components of the IVA3T ice maker are selected from countries with leading industry in the world such as Germany, France, USA, Japan and South Korea with Certificate of import origin clearly.
Therefore, Mr Thang used 3 tons Viet An ice making machine to serve the business in many areas such as restaurants, hotels, supermarkets, seafood shops or coffee shops, refreshments and shops, bar, karaoke, milk tea shops ...
In particular, Viet An 3 ton ice making machine takes only 35 to 45 minutes on average for a batch of finished ice thanks to the fully automatic mechanism according to the closed process without any external interference.
Viet An is one of the only units on the market today that has a showroom system to display and introduce a water filtration and ice making machine with a large scale to bring customers the necessary benefits. real when being directly experienced products.
With the criteria of taking customers as a centre for all brand development plans, besides censoring product quality, Viet An also pays great attention to the quality of after-sales service with highly qualified technical staff, being well-trained abroad to provide customers with the best maintenance, maintenance, and repair services.
In addition to the 24-month warranty, Viet An is one of the few businesses that receive lifetime maintenance of pure ice cube machine manufactured and distributed by their units.
After Viet An finished warranty for 3-tons ice cubes for Mr Thang, the technical staff gave trial operation and handed over the machine to him. If you before investing in pure ice cubes, you should be consulted specifically to best meet your needs. All needs related to tablet ice making machine, Viet An always give good advice and support. We are confident to bring our customers the most optimal products.