Water filtration line and bottling filling machine made in Khanh Hoa
After Viet An signed a 1004/2019 contract with Ms Thuy on the supply of a 1000 liter / h - VAIA 1000 water filtration line and VACGF2000 bottling filling machine, on July 20, 2019 Viet An proceeded to deliver goods to Ms Thuy to be able to install and deliver products in time according to the signed contract.
Viet An general trading Joint Stock Company is one of the leading companies in providing pure water filtration lines and filling machines, pure ice machine... With nearly 20 years in the water treatment industry in Vietnam - Viet An is committed to bringing satisfaction to every customer. There have been big companies using Viet An product line such as Samsung, Diana, Vinamilk. Thanks to the application of the most advanced RO water filtration technology, our water purifier products are guaranteed to meet the standard output water: colourless, odourless, 100% pure, but still full of essential minerals for the body.
Viet An - The leading supplier of pure water filtration line in Vietnam
Viet An is one of the companies with extensive experience in supplying water filtration lines. Established in 2008, after more than 10 years of operation, Viet An's products have always received good feedback and trust from customers. Viet An water filtration system is trusted by many companies, factories, hospitals and schools, ... and is supported to install nationwide. Therefore, not only Mr Luan but also many customers in Hanoi in particular and in 63 provinces and cities, in general, they have trusted and selected Viet An as a cooperation unit to install pure water filtration lines.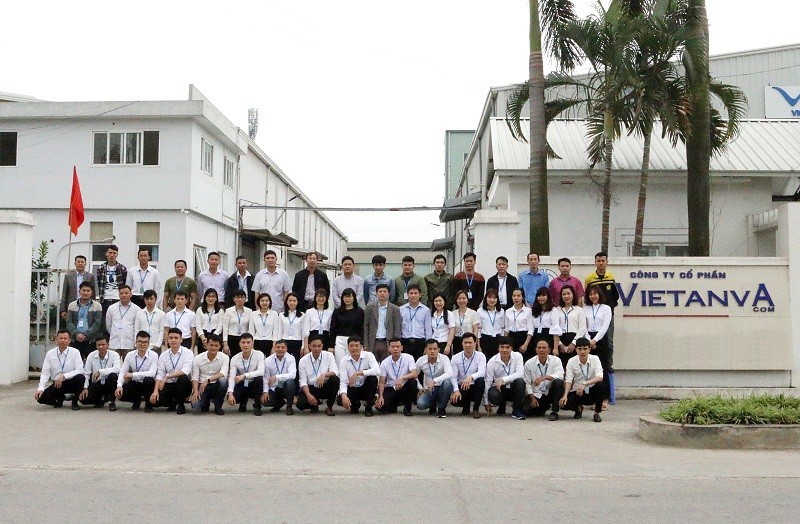 With 4 branches from the North to the South with hundreds of different models, it is a true, different experience when customers come to us. Understanding the importance of after-sales regime, after-sales maintenance and maintenance of the machine industry, Viet An company with a team of professional engineers, we are always committed to serving the best, bringing satisfaction. , along with the development of customers. Choosing Viet An as a development investment partner - we will definitely make you feel secure and satisfied.
In 2009 Viet An received the Gold Medal for high quality Vietnamese goods for bottled water, bottled water and golden lotus cup for its pure water filter product.
In 2015 Viet An received the exclusive brand certificates '' VA '' and ''USApec '' for ice machine products and pure water filtration lines issued by the National Office of Intellectual Property on September 10 / 2015.
In 2015 Viet An received the award of `` Top 100 leading brands in Vietnam in 2015 '' by Consumer Newspaper.
Received the certificate of ISO9001: 2015 international quality management standard
On 11/29/2016 Viet An Genereal Trading Joint Stock Company was also honoured to receive the Certificate of Merit as one of the enterprises with good achievements in the fight against fake and counterfeit goods of the Association Against Counterfeiting and Trademark Protection Vietnam VATAP brand.
Advantages of VAIA1000 water filtration line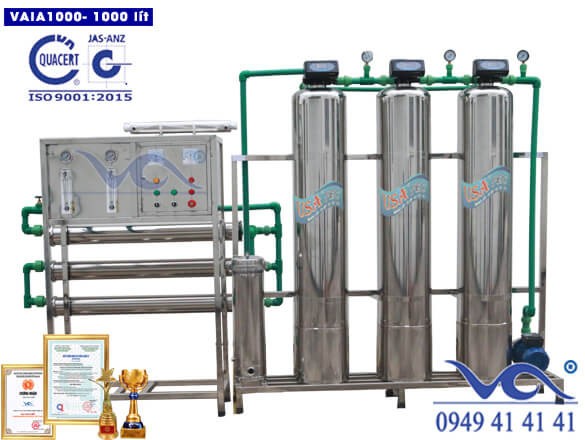 Water filter line 1000 liters / h - VAIA1000
Applying the most advanced RO water filtration technology in 2018, both purifying pure water to meet the 6-1-2010 / BYT standard of the Ministry of Health, the US FDA standard and ensuring the retention of minerals Substance needed for the body so water quality
Quick water filtration, 1000 liters of pure water per hour with the fully closed, automatic filtration process. The entire water treatment process does not need human involvement.
Can handle a variety of dirty, non-standard water becomes pure water
The compact industrial design does not take up space, easy to transport and install
The system of genuine imported components, with high durability.
The system uses a high-grade 304 stainless steel filter column, which is durable, easy to clean and absolutely safe.
The compact design makes it easy to transport and install
Application of maximum power saving technology should help save a lot of electricity consumption costs
Automatic valve system has the ability to self-adjust the filter column, self-cleaning filter column helps the filtration process takes place automatically, saving labor costs.
Advantages of VACGF 2000 bottling filling machine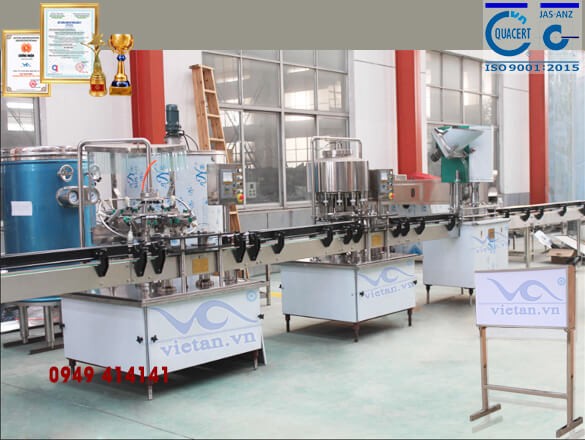 Filling many types of bottles
The production of many types of water bottles with different sizes will meet the diverse needs of users. Unlike the old technology, the filling machine can only pour a certain type of bottle size such as 250ml, 300ml, 500ml, 1000ml bottles. With the 4-in-1 VACGF2000 filling machine you can produce a wide range of bottles with different volumes. You only need to make changes to the scouring table molds, filling heads and screw cap heads. Mold replacement time takes about 1 hour. So you can proceed to change the mold after each production shift to ensure capacity as well as working time.
Does not need a lot of labor workers
Unlike another semi-automatic filling line, it requires a lot of labor. With VACGF2000 automatic filling machine, you only need 1 worker standing in front of the machine to program and start the machine. The whole process of bottle rinsing, filling, bottling and capping takes place automatically
High capacity
Unlike semi-automatic filling machines, which require a lot of labor which low capacity. Now with the application of advanced science and technology in production and business activities. The automatic 4-in-1 filling machine provided by Viet An is applied with advanced automatic rinsing technology with 12 rinsing heads, 12 filling heads, 1 capping head and 1 inspection light with only 1 person equal 12 people.
The process of installing the 1000 liter / h water filtration line and bottling filling machine in Khanh Hoa
When Ms Thuy signed a contract to buy a water filtration line, and a filling machine produces bottled water in Viet An. We will check the survey. Counseling on the work she needs to prepare, support equipment. Viet An will then install and operate it to hand over to her. Instruct her to take a sample of filtered water for testing.
In order to facilitate the installation of the water filtration system and filling machine system. Ms. Thuy should note should carefully prepare the infrastructure, stable power system. Source water system ensures capacity, piping system from tanks to filtration line system.
Customer care policy of Viet An
Delivery service to 63 provinces and cities with the soonest time.
We always have 24/7 on-site staff ready to support and answer any questions from customers, just call phone for us, we will give you the right solution.
Frequently apply many promotions. You only need to leave information we will apply promotions for customers.
The company will promptly exchange and notify customers when there is a change in the price during implementation.
The professional staff, well-trained on the product as well as the legal, so will provide customers with quality products and the most enthusiastic and thoughtful advice.
Thank Ms Thuy for choosing Viet An's products! Our company is improving the price as well as upgrading modern machines, warranty, quick maintenance so that you and all customers can rest assured when ordering at our company! Please contact Viet An today to own your own water filtration line, the most perfect filling machine via the hotline: 0943 41 41 41. Viet An would like to thank!