Water filtration line of 1000 liters / h export for Mr Hoan in Ha Tinh
After signing a contract of 1034/2019 with Mr Hoan in Ha Tinh to supply 1000 liter - VAIA1000 water filtration line, on July 24, 2019, Viet An has exported goods for Mr Dong to keep up the installation progress and produce as planned. This is the most modern filtration line with an automatically closed water filtration process using RO water filtration technology to produce pure water that is good for human health.
Not only that, the water filter production line of pure water using autovalve stainless steel filter column with the capacity of 1000 liters per hour has won the trust of Mr Hoan as well as the majority of customers across the country because of the ability to filter water quickly, economical and pure water quality ensure food hygiene and safety standards.
Water filtration line 1000 liter / h - VAIA1000 solves the alarming dirty water problem in Ha Tinh
The need to support consulting and installing water filtration lines has been increasing. Not only in big cities like Hanoi and Ho Chi Minh but it has spread to all provinces across the country. Ha Tinh is currently facing many challenges in ensuring water security and sustainable development. Due to climate change and human responsibility discharging into the environment, causing many extreme weather events, besides the negative side from economic development activities with high intensity has many consequences such as Environmental pollution, serious ecological imbalance are taking place here every day.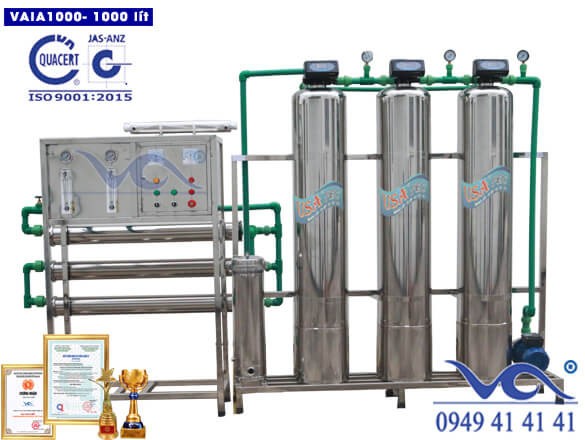 Water filter line 1000 liters / h - VAIA1000
Water filtration line 1000 liters / h - VAIA1000 Viet An provided is one of the options that people in Ha Tinh can rest assured to use. Because the quality and prestige of this brand have been affirmed by many households in 63 provinces. Not only does it provide clean water, but the water purification line can retain essential minerals that help the body stay healthy.
Viet An is a company specializing in manufacturing and installing ice cube production systems, industrial refrigeration equipment, pure water treatment systems, filling lines, bottle blowing machines, jar blowing machine ... .experienced and highly technical in Europe and manufactured and assembled in Vietnam. We have developed technology based on advanced techniques of American, European and Japanese industries.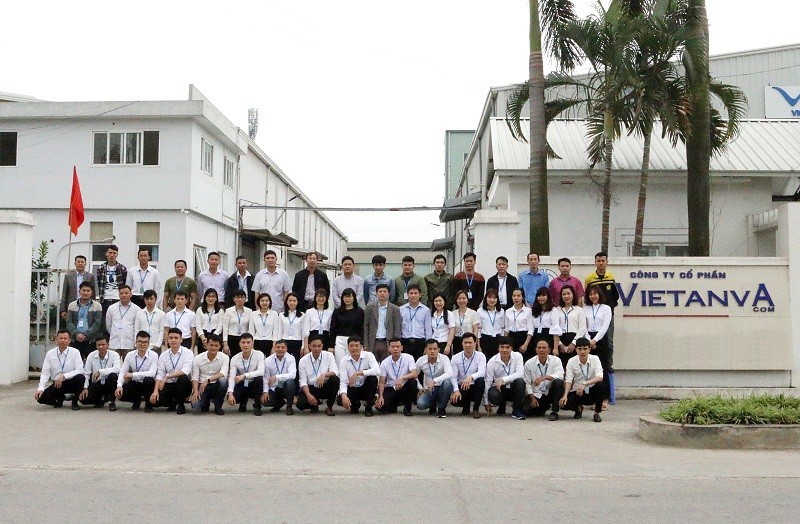 After nearly 20 years of development, Viet An is now the No. 1 unit in the market in the field of manufacturing ice machines and water filtration lines. Not only that, but Viet An also won many prestigious awards, high-quality certificates from the competent agencies. As :
In 2009 Viet An received the Gold Medal for high-quality Vietnamese goods for bottled water and golden lotus cup for its pure water filter product.
In 2015 Viet An received the exclusive brand certificates '' VA '' and ''USApec '' for ice machine products and pure water filtration lines issued by Department of Intellectual Property of Vietnam on September 10 / 2015
In 2015 Viet An received the award of ''Top 100 leading brands in Vietnam in 2015 '' by Consumer Newspaper.
Received the certificate of ISO9001: 2015 international quality management standard
On 11/29/2016 Viet An General Trading Joint Stock Company was also honoured to receive the Certificate of Merit as one of the enterprises with good achievements in the fight against fake and counterfeit goods of the Association Against Counterfeiting and Trademark Protection Vietnam VATAP brand.
Main specifications and advantages of water filtration line 1000 liters / h - VAIA1000
Capacity: 1000 liters / h
Size: 4x0.6x1.5 m
Weight: 88 kg
Power consumption: 1.84 Kw / h
Power source: 220v / 380v
Applying the most advanced RO water purification technology in 2019, purifying purified water to ensure the standards of 6-1-2010 / BYT of the Ministry of Health, US FDA standards and ensuring the retention of minerals Substance needed for the body so water quality is always guaranteed.
Quick water filtration, 1000 liters of pure water per hour with the fully closed, automatic filtration process.
The whole process of water treatment does not require human involvement.
Can handle a variety of dirty, non-standard water into pure water.
The compact industrial design does not take up space, easy to transport and install.
The system of genuine imported components, with high durability.
The system uses a high-grade 304 stainless steel filter column, which is durable, easy to clean and absolutely safe.
Application of maximum power saving technology should help save a lot of electricity consumption costs.
Automatic valve system has the ability to self-adjust the filter column, self-cleaning filter column helps the filtration process takes place automatically, saving labor costs.
VAMCRTH synthetic extraction table comes with a 1000 liter water filtration line for Mr Hoan
The semi-automatic synthetic filling machine is a very important part in the auxiliary system for pure water filtration line. Currently, the filling machine is divided into many different categories such as bottle filling, bottling and jar bottling, bottling combined.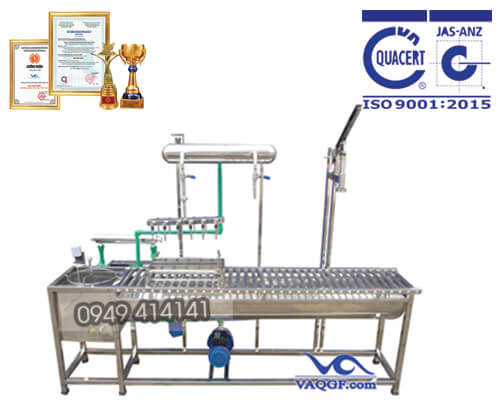 VAMCRTH semi-automatic bottle filling machine with a capacity of 60 bottles/hour and 150 bottles/hour has many advantages compared to similar products on the market, the components of the system are made entirely from stainless steel to help to fill with efficiency 2 to 3 times higher than normal, each filling head has a valve to regulate the water inlet so that it will completely ensure that the bottles are extracted with equal water level, With this product, each worker will extract 500 to 600 jars of water a day and 150 bottles/hour.
- Some basic specifications of VAMCRTH.
Material: Machine made from stainless steel.
Production standard: ISO9001: 2015
Capacity: 60 jars/h and 150 bottles/h 2 to 3 times manual making.
Stage: Including 3 effects: washing the bottle, filling the bottle, closing the bottle.
Some other accessories included:
Manual dryer
VATDS
screw cap machine
Installation steps, hand over to Mr. Hoan
After signing the contract and preparing everything necessary, Viet An staff will transfer the equipment to Mr Hoan's address, and conduct a quick and efficient installation so that his facility can soon go into production.
After installation, Viet An staff will give detailed instructions for the person in charge of this system to understand the production process and promptly reflect the problems encountered when operating the water purification line.
Rinse the entire 1000-liter water filter system just installed to test the device. After that, Viet An will hand it over to Mr Hoan directly.
After the process of installation, handover is completed - Our company also carries out maintenance and maintenance of the machine so that the water production process is safe and reaches the highest efficiency.
After completing the installation and handing over the 1000 liter / h water filtration system to Mr Hoan, Viet An also assisted him with related issues such as licensing, label design, water sample testing, ... Thank you for trusting and choosing to accompany Viet An. I wish your facilities more and more developed.
Customers wishing to purchase water filtration lines or bottle filling, automatic or semi-automatic filling machines, please contact Viet An for advice and support via the hotline: 0943 41 41 41. Viet An please Sincerely thanks!