Top 5 best-selling ice cubes making machine in 2018
Top 5 types of best-selling ice cubes making machine in 2018. Viet An's industrial ice making machine is a quality-controlled machine according to the most rigorous ISO 9001: 2015 standard, being registered exclusively USApec brand No. 250970 at Vietnam Intellectual Property Department.
This machine is produced directly at Viet An's factory in Hanoi - this is the largest factory in Vietnam with an area is tens of thousands m2, every year, we can supply to domestic and foreign markets with thousands of industrial ice making machines. Currently, the product is sold directly and distributed through the branch system in Hanoi - Ho Chi Minh City - Hue - Danang - Buon Ma Thuot and exported to Asian countries.
Industrial ice making machines products in Viet An are always trusted and received by customers. Viet An introduced to customers "TOP 5 best selling ice making machine products in Viet An" in 2018.
Top 5 best-selling ice cubes making machine in Viet An
          1. Stainless steel ice making machine for export IVA5T-5T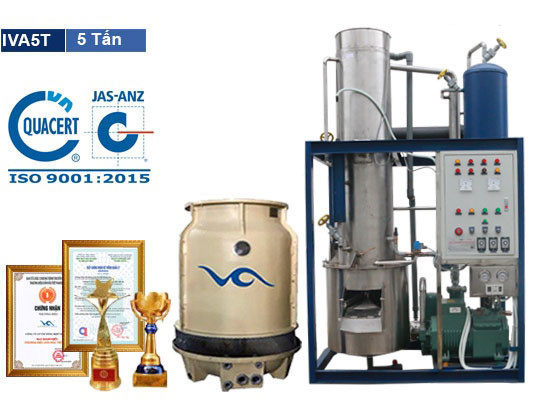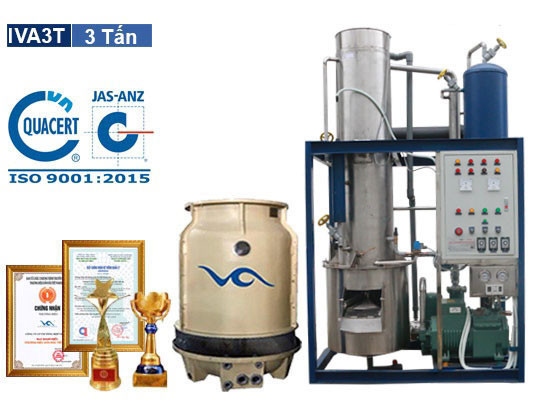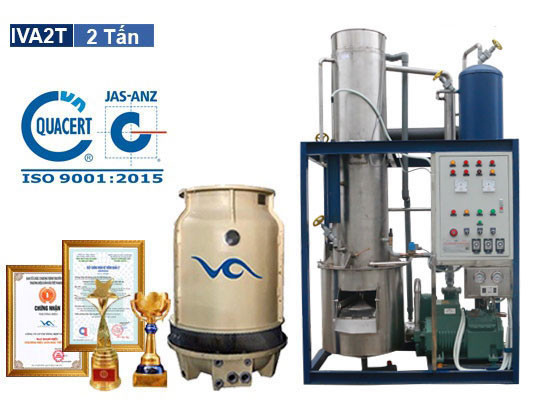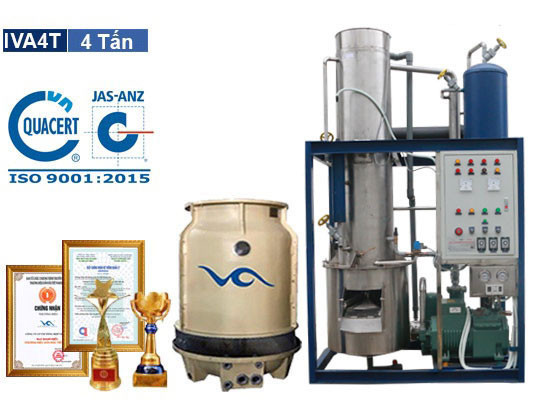 Stainless steel ice making machine for export IVA7T-7T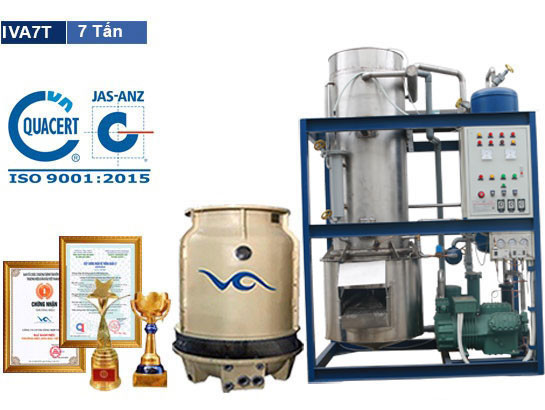 Outstanding advantages of stainless steel ice cube making machine for export IVA in Viet An:
Good products, cheap price and especially high durable. These are probably the three most important factors that many people choose a clean ice making machine bring named ice making machine Viet An.
Ice mortar, Ice mortar, heat exchangers, the pipeline of the ice cube making machine are made of stainless steel. Speaking to here, it is possible to understand the clean ice making machine extremely durable and lifespan expectancy of at least 20 years, specializing in exporting to Asian countries that have demand for industrial ice making machine, thanks to stainless steel material to help the machine not be corrosion by oxidation, adapted to a variety of climates from temperate to tropical. Thanks to this structure, the cleaning of the ice making machine is extremely simple to help ensure food safety and hygiene.
Viet An ice making machine belongs to the ice cube making machine which has a very compact, convenient and modern design according to American industrial ice making machine standard. When installing, there is no need to use brackets so it is suitable for many positions. It is possible to move the ice cube making machine without it is permanent in one place.
Ice making machine has small noise and does not affect people around thanks to a good silencer system. This is a problem that many people are interested in when buying ice cubes making machine.
Water undergoing UV filtering and disinfection process according to RO reverse osmosis technology to ensure the purity and cleanness in accordance with QCVN6-1 / 2010 / BYT standards for clean ice making machine.
Viet An ice cubes machine system is an automatic, automatic relays system protects industrial ice making machine, automatic time-relays system, etc., they help ice cubes making machine make ice, self-defrost and self-ice interrupt in all cases of electrical problems.
Reasons that customers believe to use water filtration products of Viet An
Viet An has become a trusted unit by many customers not only by quality but also by a thoughtful customer care regime:
Customer care system is always ready to answer all your questions, support detailed advice if you need to install the ice cube machine of the company.
Free shipping across the entire territory of Vietnam and support free shipping to the border gates if you order machines to neighbouring countries such as Laos, Cambodia, Thailand, ...
Support for 1-year warranty, maintenance for the next 14 years. The technical team supports 24/24 as soon as you encounter any damage or problems with the product, ensuring not affect the business operations of the customer.
Free for the installation process, free product manual.
With these advantages, Viet An is committed to bringing customers the best ice making machine products.
If you have any questions, please leave the information at the link above or contact us at the hotline 0949.41.41.41.
Pleased to cooperate with you! See you on the next sharing of Viet An water filter!