Beer Filling Machine
Beer filling machine is the most advanced technology applied today, specialized to extract, quantify carbonated water into the bottle. With a special design, there are many devices imported directly and the application of the most advanced filling technology of the United States. The machine can fill a lot of bottle capacity such as 300ml, 500ml, 1500ml bottles and has a diverse capacity from 1500-8000 bottles / h.
Viet An specializes in providing automatic, semi-automatic bottling and bottling machines in the market. Produced by the latest technology in 2019. With the development of the market of clean water, beverages, soft drinks today, it is necessary to own a line of automatic filling machines to replace the semi filling machines, the manual filling machine of factories, clean water companies and soft drinks is also increasing.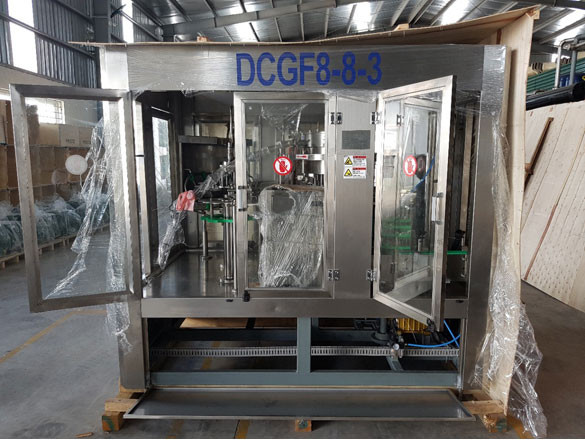 Useful of beer filling machine
Beer filling machine specialized use for units of brewing, carbonated soft drinks, a mineral water ...
With many automatic steps to save labour costs, increase productivity.
Improving productivity by automating line -based operations should minimize risks.
Increasing competitiveness with other units, reducing product costs
Ensure food hygiene and safety factor
Absolute accurate quantitative ability
Maximum savings of carbonated solution during the filling process
Helping businesses gain huge profits.
Long life, less repaired
Advantages of Viet An beer filling machine
All direct contact parts are made of stainless steel material used in the food industry, without dead corners so it is easy to clean.
Due to the operation of the touch screen, the state of the operating device is clearly shown.
Automatically close the valve when there is no bottle in the machine to avoid material loss. Automatic filling with high speed and control of precise material level.
Adopt advanced valve system to control the flow rate of the liquid. It can keep a stable level of liquid in the tank and ensure accurate filling.
The magnetic torque device is applied in the screw cap head to ensure high-quality screw cap.
Has an overload protection case system, which is used to effectively protect equipment and operators.
Main electronic devices such as touch screens, PLCs, sensors ... are used by famous brands
Apply an effective cap-writing system and protection device.
Machine with Inox 304 structure, quiet operation, excellent automatic features, low labour intensity.
Where to buy cheap beer filling machine, good after-sales service?
Today when society develops competition in the market more and more fierce, any product when it comes to creating its own brand reputation will have competing units even they copy piracy. making counterfeit and poor quality products that greatly affect reputable businesses.
So in order to avoid this situation, we recommend that customers should make smart choices for their businesses, needing reputable establishments to buy quality, guaranteed beer filling machines.
Viet An with nearly 20 years of experience, we always provide the market of industrial machines to ensure that we are at the forefront of the most advanced modern market. All products of Viet An undergo rigorous testing and testing process, carefully selected materials to international standards ISO 9001 - 2005, to our customers can be completely assured and confident. trusting the quality of products as well as a dedicated, professional and caring team will surely satisfy you.
Come to us, we will advise and design the premises, advise on the process of producing filling machines as well as legal documents to help save costs for customers.
Regarding the price issue, Viet An always imports directly without intermediaries, the equipment is guaranteed to have the listed price, the most competitive price in the market.
In addition to quality products, we have a team of enthusiastic technicians who will answer any questions about the product, as well as the long-term product warranty and maintenance. The after-sale mode supports your best when an incident occurs.
Viet An TMTH Joint Stock Company committed
> New 100% beer filling machine with accreditation certificate
> Various filling machine models, beautiful products
> High durability, suitable for many places you want to use for a long time
> High after-sales mode, the cheapest price in the whole country
> Goods are always available, enthusiastic support staff, happy
24/24 service when you order via Hotline: 0949 41 41 41 or 0942 41 41 41