Viet An delivered and installed IVA 7T ice making machine for Mr Ha
IVA 7T ice making machine with a capacity of up to 7 tons of ice in 24 hours. Produce tubular ice depending on the size you choose. Specialized applications to the market, in the areas of seafood processing, restaurants or supermarkets, cafes and fast food stores, etc.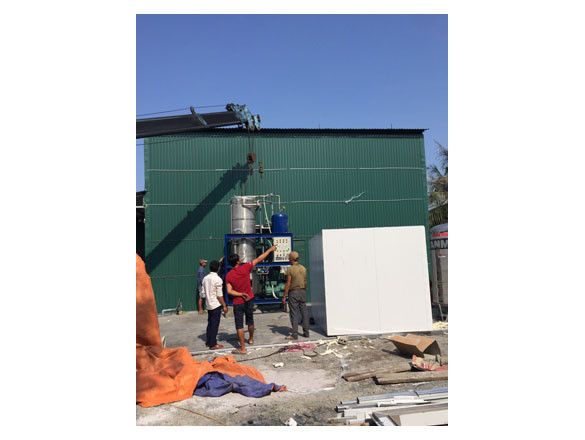 The hot summer is coming soon to see the demand for ice in the market is increasing so Mr Ha decided to go to Viet An to buy ice cubes making machine. After being consulted by a professional consultant team and finding a suitable capacity machine, Mr Ha decided to sign the contract No MD2019QB 050 IVA7T with Viet An
 Mr Ha shares when deciding to choose IVA 7T ice making machine of Viet An
"Not only in the appropriate capacity but also the advantages of IVA 7T ice making machine make me satisfied" - Mr Ha shared.
So ice making machine IVA 7T has outstanding advantages that other lines in the market do not have:
- The main parts of inox ice cube machine for export IVA 7T such as ice cutter, ice mould, ice supply tank, load bucket and cold mortar in the system are all made of stainless steel 304. no rust during easy use and cleaning, saving electricity cost to reduce many expenses incurred.
- The production process of ice making machine is fully automatic, self-contained and ensures food safety and hygiene.
- The devices that make up the device are carefully selected by the unit. Therefore, ensuring good quality. In addition, IVA 7T - 7-ton export ice making machine of Viet An is very stable, high performance, easy to install or operate.
You do not need to worry about the process of working later. Because almost no damage has occurred. In ice cubes, there are 4 main types: ice for drinking 8cm, ice for ice tea  4cm, ice for soft drinks or coffee for mini ice and grinding ice used for smoothies ...
- The machine has a compact design with the size of 1.8mx1,6mx3,5m, the quality, stable and durable operation bring high performance, energy saving, easy operation, especially the most expensive price on the market school
- Components using stainless steel 304 so increase machine life at least 20 years and not corrode because of oxidation, or rust. Therefore, it is appropriate to use in harsh weather in Vietnam.
- Using R22 refrigerant is directly imported to ensure safety for users' health. Cooling methods meet international standards, so it is safe for finished stone to be used in daily life and eating.
- Thanks to the good silencer system, IVA7T-7 ton ice making machine of Viet An has small noise, less affected by the surrounding people.
- Automatic power system helps the machine, automatically disconnects when an incident occurs or adjusts the time to be able to make ice cubes with different hollow and easy operation, simple operation.
 Benefits for Mr Ha when buying IVA 7T ice making machine - 7 tons in Viet An:
The company always has promotion programs, discounts on special ice making machines according to each type, quantity, and time of purchase.
When buying IVA 7T ice making machine, Mr Ha will be installed free shipping.
Viet An with enthusiastic staff, answers all questions of Mr Ha
Warranty and repair are always guaranteed when Mr Ha needs. Ice making machine 7-tons uses modern water filtration technology in combination with fast ice making technology.
The warranty period for Mr Ha's ice making machine IVA 7T is 12 months and long-term maintenance.
Besides, Mr Ha is also provided with a packaging system that helps the process of packing goods be convenient and fast.
See more: Pure water filter line
For the machine to make IVA 7T ice cubes with the highest productivity and longevity, Mr Ha needs to pay attention
Today's ice making machines come with information on how to use Mr Ha should learn or listen carefully to technical experts. And of course, apply, especially to disconnect the power before making any cleaning or maintenance operations.
Mr Ha should also note the location of the installation where the machine is ventilated to avoid high temperatures, and the source of water to be supplied should be water from drilled wells or groundwater.
In order to ice making machine to have a long life, cleaning IVA 7T ice making machine regularly. This is also one of the principles for effective ice making machine.
Certainly applying the instructions of the technician, Mr Ha will improve the quality of the purest ice cubes.
Inox ice cube ice maker for export is a machine supplied by Viet An company so the machine can be produced according to the required capacity of customers. With a team of skilled technicians, we are committed to bringing our customers the best products and transferring the entire technology to customers when delivering and installing machines.
With many years of prestige in manufacturing all kinds of manufacturing machines, leading industrial machines in Vietnam. Get many great awards at home and abroad. Viet An Company is proud to be the No. 1 industrial machinery brand on the market today with modern production lines and national standard meeting all requirements of customers. Please contact us immediately for advice on purchasing and installing IVA 7T ice making machine most accurately. Thank you for your interest!
See more: Installation of IVA 2T ice machine contract for Mr Thieu.