Alkaline ionized water - Attracting business trend in 2019
Alkaline ionized water is commonly used in advanced countries in the world such as Japan, America ... With hydrogen-rich ingredients, acid balance in the body, so when using electrolyte compensation water helps increase absorption, boosting metabolism, antioxidant, toxin excretion ... you will be healthy, not sick when using electrolyte water or often alkaline ionized water. It is because of seeing these great benefits that in recent times the need to seek to buy electrolytic bottled water, bottled, electrolyte water purifiers is increasing in our country is rising. This can be seen as a new use trend in the field of bottled water, bottled in late 2018 and 2019. So why is it that alkaline ionized water is attractive to business trends in 2019? Let's go to Viet An to learn through the content of the article below.
Electrolyte water will dominate the market in 2019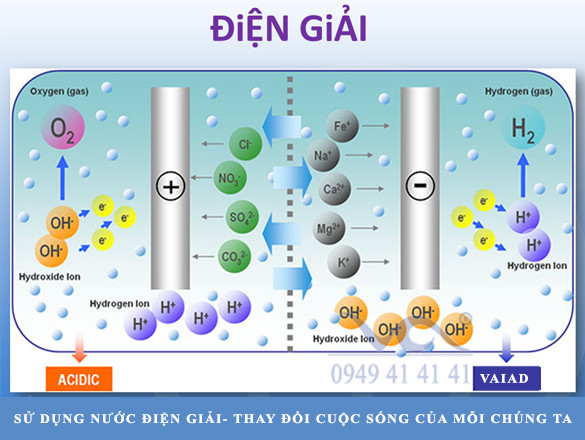 Between the countless kinds of water used to serve the needs of refreshments and daily activities of the people. These include bottled water, PET bottled water, bottled carbonated water ... and a new kind of water that is alkaline ionized water.
Calling new water because they are recently used by Vietnamese people in recent times. In fact, this type of alkaline ionized water has been used for a long time. The first is that they are used to treat diseases in hospitals, then with great health benefits that scientists have studied and created products that create electrolyte water to be able to meet daily use needs of the majority of people.
None of us would not want to have a healthy body not sick by health is the most precious thing. Meanwhile, the current rate of environmental pollution and water pollution is increasing. So what is the solution to overcome the situation of polluted water? How to protect your health every day?
Purified water, mineral water also has many benefits for the body, many people choose to use this water every day to have a healthy body. However, with the current technology age of 4.0, many people have seen the information about alkaline ionized water - "kind of medicinal water" with seemingly unexpected benefits that can bring people. Therefore, choosing to use electrolyte compensation in daily life becomes the most optimal and most effective solution. And so the growth rate of this water is very high. According to water experts, in 2019 alkaline ionized water will dominate the drinking water market in general and bottled and bottled drinking water in particular.
Alkaline water production and trading business is an inevitable trend in 2019
As consumer demand rises in 2019, existing water production facilities should also change to keep up with the trend. Besides the production and trading of pure drinking water, mineral water, carbonated soft drinks, electrolyte water trading is also a great choice for you.
Only in the last few months in 2018, the number of customers coming to the factory of Viet An General Trading Joint Stock Company to learn about the electrolyte water filtration lines, the hydrogen water production system is 3 to 4 times higher compared to the first months of the year. This proves that businesses and water-producing enterprises are now catching up with the trend of new uses by consumers. The change in production technology, new technology updates is an inevitable requirement when we are entering the technology age of 4.0. Users can easily find information about the quality of water types, which water should be used as well as the practical benefits that drinking water can bring.
To keep up with the trend of new drinking water business in 2019 as well as help your business dominate the market, affirming its position, investing in the installation of electrolysis water filtration lines is the current number one solution.
Benefits when investing in installing alkaline ionized water lines
Catch the trend of new drinking water business in 2019
Possessing products that can filter out high capacity alkaline ionized water and electrolyte water
There is a rich source of hydrogen water for good health protection, prevention and treatment
Affirming its position and dominating the market in the coming time
Improving the profitability of business establishments because each electrolyte bottle has a higher price than other water bottles.
Serving the demand of consumers better.
Quotation of electrolyte water filtration lines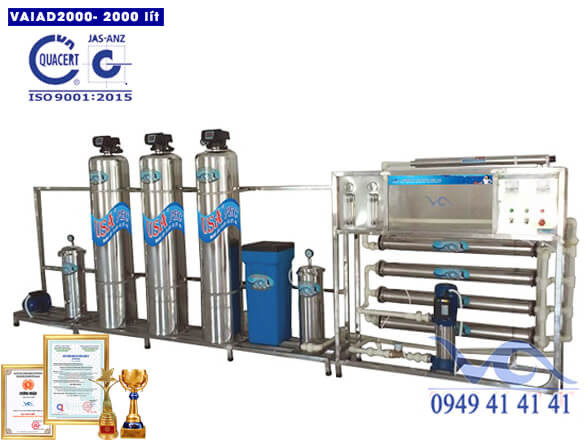 Electrolyte water filtration line 2000 liters / h auto valve
Viet An General Trading Joint Stock Company is proud to be the No. 1 unit in Vietnam to provide genuine filtration and production systems of electrolyte water. With a capacity of 300 l / h, 400 liters / h, 750 liters / h, 1000 liters / h, 1200 liters / h, 1500 liters / h, 2000 liters / h, 3000 liters / h, 4000 liters / h, 5000 liters / h, 10,000 liters / h, 15,000 liters / h, 20,000 liters / h, 35,000 liters / h, 70,000 liters / h.
Each capacity will have a different price. Detailed price of each type of filter line is given by Viet An on the website if you are interested can refer to Quotation of electrolyte water filter line
In general, the price of alkaline ionized water filter line is not too different from that of pure water purification products, other mineral water purifiers but the value it brings is much higher. On average, an electrolyte water bottle is 6-7 times higher than pure water, 4-5 times higher than mineral water.
Viet An is the best supplier of electrolysis water filters in Vietnam
All electrolytic water purifier products that Viet An has brought to the market have anti-counterfeit labels, counterfeit goods, which are registered exclusively with USApec brand, VA brand at Vietnam Intellectual Property Department.
Owning a high quality, the durable product will help businesses achieve 30% success. So when we welcome this trend of producing and trading new electric water soft drinks in 2019, the choice of genuine high-quality electrolytic water supply line suppliers is always the top concern of businesses. In Vietnam today, Viet An General Trading Joint Stock Company is the No. 1 unit specialized in providing electrolyte water purification equipment, alkaline ionized water purification line, hydrogen water, genuine electrolyte water Best quality.
When buying alkaline ionized water production lines, producing electrolytic water in Viet An, customers will be completely assured of the product quality, the average life expectancy of the filter line will be 10-15 years. The warranty period of 12-24 months line and warranty range nationwide.
It can be seen that electrolytic water has a great attraction in the trend of drinking water production and business in 2019
If you want to be consulted to install electrolysis water filter line in Viet An, please contact us today at 0949 414141 or directly to Viet An's branches in Hanoi, Ho Chi Minh, Da Nang, Buon Me Thuot. We are always ready to serve you