RO system
The RO system has been used quite popular today. With the most modern water purification technology application, using the principle of RO reverse osmosis is different from other purifying technologies. RO systems will remove up to 99% of impurities, viruses, bacteria in water. Bring for you pure water to ensure safety.
When more and more dangerous diseases appear related to the problem of using unsanitary water. The human being is increasingly focused on health protection by choosing to use guaranteed drinking water.
Meeting the demand for standard water use, Viet An General Trading Joint Stock Company has provided RO pure water purification system with full capacity to meet all requirements of use and production. business.
Let's go to Viet An to find out about the RO system through the article below.
What is RO system?
It is a Water filtration system using RO technology. It is a modern and advanced water filtration technology today. RO membrane is considered to be an ultrafiltration membrane with a slot size of the only 0.0001micron. With this size can filter to ion, atomic size. So that RO filtration technology to produce ultra-pure water. RO system helps protect the health, prevent disease for millions of people around the world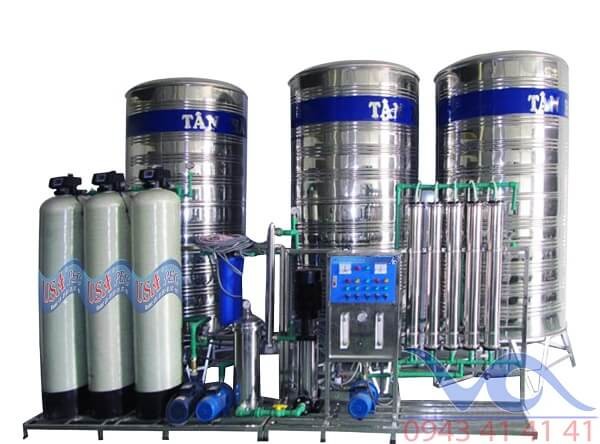 Useful of RO systems
Filter and treat all polluted water into super clean water
Remove impurities, toxins from groundwater
Provide pure water to ensure safety for people
Save time, cost of water treatment for people
Health protection, disease prevention
How does the RO water system handle?
The water treatment process of the RO system takes place with the following steps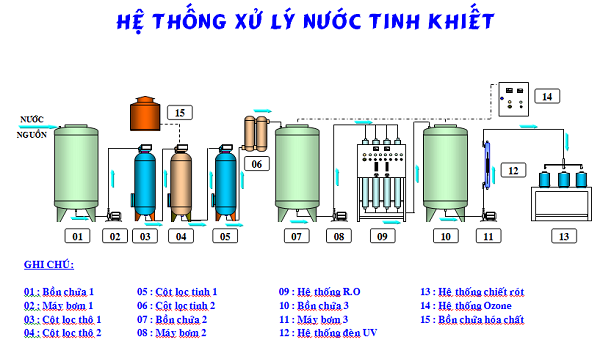 Step 1: Raw filter
Source water (borehole water, tap water) is pumped through a multi-purpose water treatment system and a sludge filtration system before being introduced into the headwater tank to filter.
 Watershed pump suction water through multi-function crude filter system includes: 3 filter columns
+ Multi-purpose filter column 1: versatile treatment including biological filtration materials for treating alum, impurities, organic, and heavy metals in water. At the same time, balance upstream pH before passing filter No. 2
+ Adsorption filter column 2: The main component is high-grade activated carbon to treat odours, fishy deodorant, colourization,  organic compounds in water and enhance domestic work.
+ Softening column 3: contains Cation Resin USA filter materials to treat hardness, lime (CaCO3) in water, soften water, ... to protect pure RO filter system to prevent clogging
Each filter column is equipped with a filter valve. It can be an automatic valve or valve system. The purpose of regulating the water passes through the filter column. However, if using a mechanical valve system, after 3 days you have to control the filter valve to flush the filter material in the filter column. As for the automatic valve, the process of washing filter material takes place completely automatically.
The water after passing through 3 versatile filter systems, continues through the sludge filtration system with the size of 5-micron filter for odour treatment, and treatment of sludge before entering the intermediate tank.
Step 2: Remove heavy metals, bacteria, viruses
The intermediate pump draws water from the intermediate tank and passes through a sludge filter of the size of the 1-micron filter slot.  Water is continue pumped directly by the pump through reverse osmosis RO (Reverse Osmosis) DOW brand - the best RO membrane in the world produced in the US
Useful: prevents residue from the tank and enhances the protection of the high-end RO membrane system, making the system more durable and of the best quality.
Water after being treated through the RO membrane, the pure water will be put into the finished product tank. Wastewater gets out.
The difference of genuine RO membrane with other filters membrane
Water after passing the RO membrane has removed 99.99% of heavy metals, bacteria, viruses and organic compounds.
With a special filtration mechanism, RO membrane completely removes toxic heavy metals from the water. But retaining the natural minerals necessary for the body in water sources such as Na +; K +,
Step 3: Sterilize and kill bacteria
The RO system provided by Viet An is equipped with 2 disinfection and sterilization systems which are UV lamps and ozone machines.
Pure water is susceptible to re-infection. So that we have the ozone machine attached to the finished water tank. For the purpose of disinfecting and destroying bacteria that remain in the water when contained in stainless steel tanks.
 the pure sediment filter 1-micron is used after the finished tank to block the residue generated from the finished tank and to make the wall protect UV germicidal lamp from breakage
Water continues to pass through the ultraviolet UV germicidal system. Here, Bacteria are destroyed again. Enhance bacterial control system
Bacteria are killed by UV lamps, bacteria move out. After UV lamp, the device is equipped with a microbial filter device, with a size of 0.2-micron filter capable of retaining and blocking the bacteria without leaving the filling tap.
Finally, the water before the tap filling is filtered through 01 treatment device to make the water more sweet and delicious and always retain the natural minerals. ...
Capacity of ro water filtration system
With the diverse needs of people, Viet An has launched 15 different capacities of RO filtration system such as 300l / h, 400l / h, 750l / h, 1000l / h, 1200l / h, 1500l / h, 2000l / h, 3000l / h, 4000l / h, 5000l / h, 10000l / h, 15000l / h, 20000l / h h, 35000l / h, 70000l / h.
Depending on your needs for home use, or production and business, Viet An will advise you on an appropriate water filtration system.
The RO water filtration system provided by Viet An is not fussy about water, the quality of finished products always meets the standard of 6-1: 2010 / BYT of the Ministry of Health.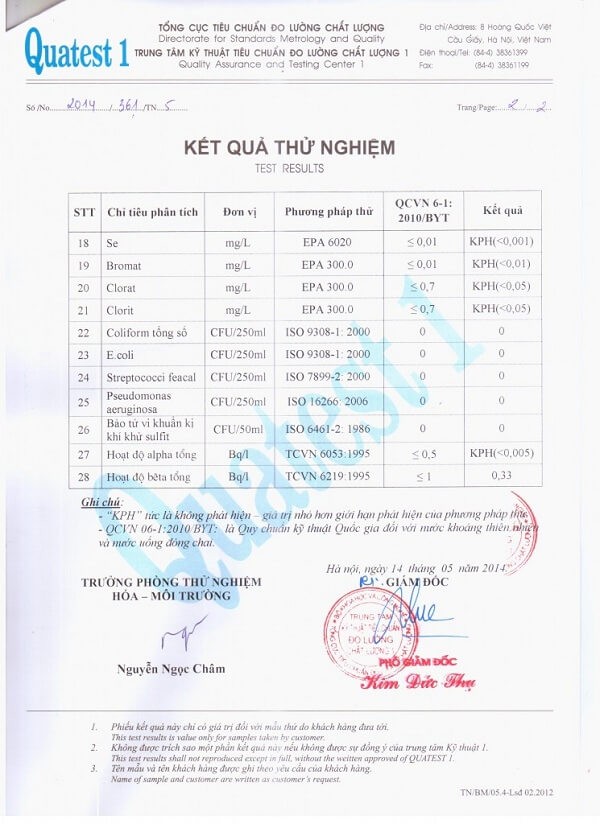 The product has been registered exclusively with VA brand No. 250969 at the Vietnam Intellectual Property Department
 Viet An currently provides RO systems nationwide at branches:
Hanoi Office: No. 10-N6 Lane 40, Xuan La Street, Tay Ho District, TP. Hanoi
Phone: (024) 38 28 41 41 - (024) 37 58 68 48
HCM Office: 40 Nguyen Anh Thu, Tan Chanh Hiep Ward, District 12, Ho Chi Minh City (HCMC)
Phone: (08) 88.81.81.41 - (08) 88.41.81.41
Danang Office: No. 50 Phan Khoang, Phuoc Ly Resettlement Area, Hoa An, Cam Le District, TP. Danang
Phone: 0236 368 4141
Office Buon Ma Thuot: No. 87 Phan Huy Chu, P.Khanh Xuan, Buon Ma Thuot City.
Phone: 0262 399 99 36
If customers need to buy genuine, quality industrial RO water filtration system. Please contact:
Viet An TMTH Joint Stock Company
Hotline: 0949 414141
If you want to know what is RO water purification technology, please see details in here: https://vietan.vn/news/cong-nghe-loc-nuoc-ro-la-gi.html