bottled mineral water production line
In the market today, the production and trading of bottled water, PET bottled and bottled water is growing wildly and being used very much by consumers. Because the water source is seriously polluted, most households, companies, businesses ... both use PET bottled and bottled mineral water to protect their health and prevent the disease from entering the body. Therefore, the profits from the production line of very high bottled mineral water make people lust and attracting many new investors.
If you want to trade high-quality PET bottled water and bottled water, it is necessary to apply the most modern technology to create high-quality products, ensure consumers' health, attract more potential customers. energy, gain a lot of profits to increase production efficiency.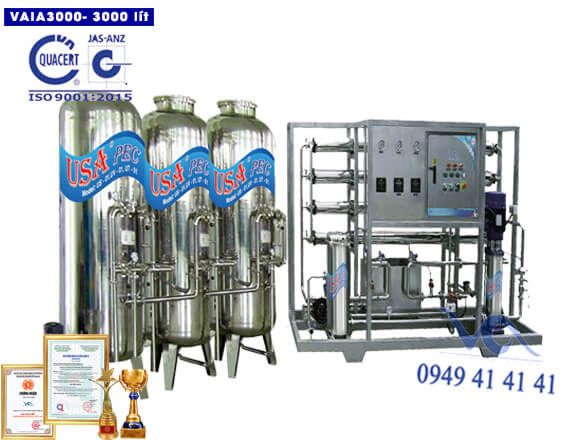 What should be attention before investing in the production line of bottled mineral water?
Notes before investing in the production and trading of bottled mineral water that production and business units need to implement:
Researching, exploring market demand: we must grasp what consumers need currently? What brand of mineral water are you using? analyze the advantages and disadvantages of these types of mineral water to draw experience to serve its production and business process.
Learn suppliers of reliable, high-reputation bottled mineral water production lines in Vietnam, capable of consulting from A to Z from factory design to Select the production line of bottled mineral water with a suitable capacity? apply what technology is suitable for the input water source, how to design the label, brand logo, guide the procedures to register the certificate of food hygiene and safety and register the product conformity announcement, avoiding many complicated stages takes a lot of time, effort and money.
Check the overall quality of the input water source to select the appropriate water treatment technology to ensure safety and health for consumers.
What factors do you need to enter into the bottled mineral water business?
Factors to do for business establishments to step into producing bottled mineral water:
Find the appropriate location to open a factory, avoid possible sources of pollution of input water sources such as wastewater treatment areas, animal farms, factories, manufacturing industries industry has a lot of emissions, waste ...
Doing Business license for the business of PET bottled mineral water, bottled.
Design of stamps and labels
Recruit and train employees to work
Prepare transport facilities
In the first 6 months of investment, there is no revenue, so it has to prepare reserve capital for production
Find quality water sources and test overall water inputs
Looking for a supplier of high quality bottled mineral water production lines, applying the most modern technology, reasonable price to reduce input costs
Prepare sources of consumables such as bottles, stamps, labels, shrink film, tap...
Prestigious construction unit installs a production line of high quality bottled mineral water
Currently, there are many units who want to find high-quality water distributors but the problem of finding the best distributor is considered extremely important.
Construction of water filtration lines is not an easy problem so it is necessary to find a reputable unit to help you own the best water filtration system. If you are looking for a reputable supplier of water production lines to apply the latest water purification technology, capable of constructing fast water filtration lines, ensuring quality but reasonable price, please come to Viet An Trade Joint Stock Company to be served by us.
With long-term experience in the water treatment industry, Viet An owns a good technical staff, capable of executing and installing lines very quickly and extremely well, bringing the ability to operate extremely quality systems.
If you want to invest in a production line of quality drinking water, let Viet An serve you. Ensuring the construction line of quality standards, stable operation, reasonable design to bring the ease of operation of the system.
For advice and further information, please contact us at hotline: 0949.41.41.41 to be consulted and answered by experts of Viet An Company when executing the production line of bottled mineral water. With extensive experience in the profession, Viet An believes that can satisfy customers at the highest level. Viet An is pleased to serve customers!