Evaluation of VA industrial water filtration system
VA industrial water filtration system is now a technological solution that gives users a quality water source, ensuring safety and good health. 99% of customers feel satisfied with Viet An's water filtration system and choose Viet An as a reputable company when installing high-quality water filtration lines. Below are some criteria of consumer evaluation for Viet An industrial water filtration system.
VA industrial water filtration system has the advantage in terms of products
Viet An industrial water filtration system meets the needs of treating many different water sources such as tap water, well water, deep well water, rainwater, ...
Currently installing industrial water filtration system is considered a simple solution and brings the highest economic efficiency, it helps to minimize the harmful effects of water pollution, help you have a clean water source, safer and more profitable business of PET bottling and bottling.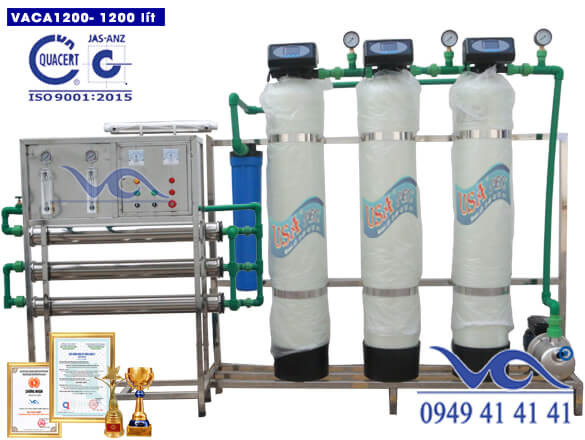 Viet An industrial water filtration system
Compared to traditional methods, the use of modern VA industrial water filtration system brings higher efficiency. These devices are quite diverse but in order to apply water pollution levels as in our country, it is best to apply RO filtration technology. At the moment it is the most advanced filtering technology in the world, it can completely filter contaminants through a membrane filter with a size of 0.0001 micros.
The mechanism of horizontal sliding operation of this system means that the water source after going to the RO membrane of the machine will be split into two parts, one part will be completely pure water, the rest with impurities will be system pushed out. So, after going through this process, the results you get will be pure water.
VA industrial water filtration system has advantages in service
With more than 10 years of experience in the water industry, apart from the advantages of products, Viet An also has outstanding advantages in terms of services:
- A team of professional technicians with high professional qualifications, long-term experience in the water filtration industry helps you feel secure and confident in the product.
- Sales and customer care department are dedicated, flexible, thoughtful, ready to support and advise customers in the fastest time.
- Check water for free before installing the product: Did you know that water filtration is like a doctor is doing the examination, medicine prescribing? Therefore, to get the proper water filtration system, we always encourage you to bring the water sample that you want to filter for us. Viet An will check the water for free and advise you on effective water filtration solutions that best suit that water source. What not all units can do is because most businesses nowadays only sell in commercial form without any water samples testing.
Viet An - Consultant unit for designing water filtration systems
Viet An is a company specializing in providing equipment, systems, industrial water filtration lines for many units, enterprises, factories producing PET bottled and bottled water. Therefore, all filter materials such as quartz sand, activated carbon, manganese sand, Cationic particles, ... they are filtered materials selected and screened with equal particle size, no impurities, no dirt, long lifespan, long time to use.
In addition, Viet An also applies advanced technologies to bring convenience to users to easily use products such as intelligent valve system combined in water filtration systems.
All information needs advice about VA industrial water filtration system, or effective water treatment plan or contacts Viet An to buy filter materials or water purification products, please call number 0949.41.41.41 or visit the Company's branches for direct support