Groundwater treatment technologies
Viet An is a company specializing in providing groundwater treatment systems with long experience in the water industry and always updating the most advanced technology.
Clean water is one of the essential needs of people. Since ancient, people have been able to make use of natural water sources as a source of water for daily needs such as rivers, streams and underground water. According to economic development, it is inevitable that environmental pollution and water pollution. Therefore, processing in the exploitation of clean water for households or for the production process is an important step.
So let's find out about groundwater treatment technologies through the following article.
Current situation of groundwater treatment
According to the survey, groundwater sources often contain a lot of minerals, heavy metals, iron, arsenic, calcium and ammonium, etc. Although we don't see any signs of seeing with our eyes, However, the process of using this substance will cause serious consequences for the health and safety of sanitary and refrigeration equipment.
Groundwater is the main source of water for domestic use in many countries and residential areas around the world. Therefore, groundwater pollution has a great influence on the quality of the human living environment. The causes of groundwater pollution and degradation include:
 + Salinity, alum, iron, Mn and some other metals.
 + Content of NO-3, NO-2, NH4 +, PO4 ... exceeds permitted standards, polluted by microorganisms.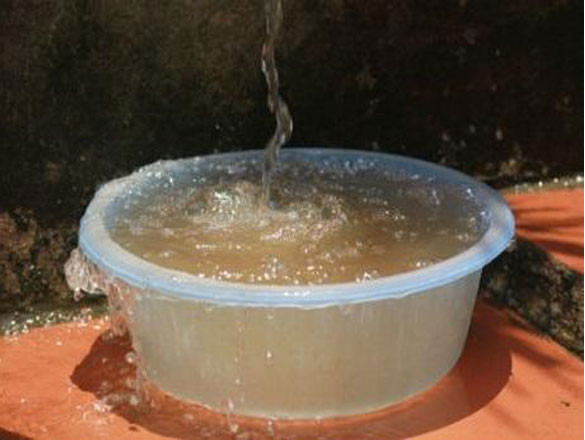 Methods of treating groundwater
- Mechanical measures: mechanical use to retain water-insoluble residues such as Reservoirs and preliminary sediments, bars block garbage, garbage grid, sedimentation tanks, filter tanks.
- Chemical methods: use chemicals added to water to treat water such as alum, chlorinated, lime to alkaline water.
- Physical measures: using physical rays to disinfect water such as ultraviolet rays, ultrasonic waves, water electrolysis to desalinate, deoxidize CO2 dissolved in water by the open-air method
In addition to the above technologies, Viet An has launched a high-quality groundwater treatment system in Vietnam.
Treat groundwater by RO method
With the water filter machine is not only a simple solution but it also has the ability to completely remove calcium deposits in the water, toxic substances, impurities, heavy metals such as arsenic, mercury, sulphur, ... And the water purifier capable of making such a miracle is the RO water filter of Viet An.
Viet An RO water purifier is a product line specializing in treating water contaminated with limestone, hardness, with imported filter cores from foreign countries with CO / CQ stamps (certification of origin).
Basic operation principles
- Domestic water after passing through the pump is directed to the total water purifier system: Passing the filter column containing activated carbon material to filter the chemical components, then go through the filter column containing specialized materials for softening water.
- Water after filtering through the system enters the water tank of the family. From the water tank will lead to the family's living equipment.
Features of the groundwater treatment system
- Use to filter water contaminated with iron, magnesium, heavy metals,etc
- Arsenic removal.
- Kill bacteria, remove colour, smell in the water.
- Output water meets the standard of clean water.
- Easy to replace materials.
- Removal of metal ions, Fe, Ca, Mg, ... (Treatment of water softening)
- Filtered water meets quality standards QCVN 06-1: 2010 / BYT of Ministry of Health.
Viet An is a trusted address for many consumers
Viet An Joint Stock Company is one of the pioneering units in the application of models of industrial wastewater treatment, well water treatment, domestic wastewater treatment, hospitals water treatment, water filtration lines ... All these models are researched by our leading experts throughout a long time and absorb advanced technology applications from countries around the world.
In addition, the systems applied in Viet An are the most modern water treatment technologies so we can be ready to commit to the efficiency of the machine as well as the utility for the projects later.  Viet An Company has many years of experience in the field of consultancy, installation of well water treatment systems, bottled water production lines with the best prices in Vietnam. If you are also interested in this system and want to install it most effectively, do not hesitate to contact us at the hotline number: 0949.41.41.41
Very pleased to advise and serve you.