How much capital is needed to open a PET bottled water production facility?
Investing in PET bottled drinking water production lines is a highly profitable business. How much capital for PET bottled water filter line? and what procedures to do business? it is a question that many customers care. Understanding these difficulties, Viet An General Trading Joint Stock Company will solve each question for customers who want to find out the problem in the best way.
Note when investing in bottled drinking water
Before starting to invest in the production line of PET bottled pure water, investors should find out if the market is crowded or not, What is the need to use PET bottled water there? Who are the competitors? ... The factory 's location should be kept away from ranches, petroleum depots, cemeteries, landfills or similar locations that may affect water quality.
Remember the most important thing about a PET bottled water business is the equipment line, technology and techniques. It is possible to invest in the high cost to get more modern technology than to buy cheap backward equipment that requires regular maintenance and repair, which affects productivity as well as costs incurred. Not to mention good technology, modern technology also affects the water quality, giving a good taste, ensuring the standards of the Ministry of Health.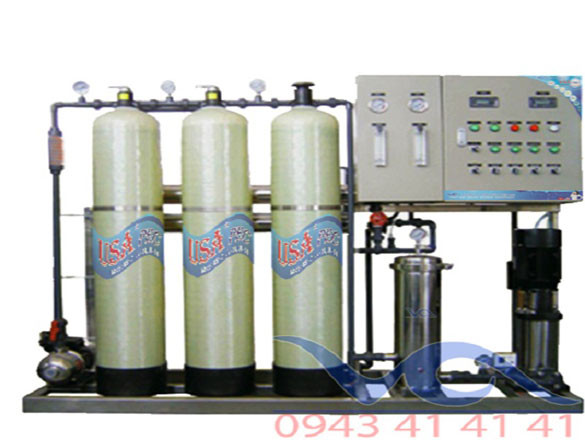 PET bottled water filter system
Estimated capital for producing PET bottled drinking water
Cost to produce a 500 ml bottle of water
- Label stamps: 1,000 - 1,200 VND
- Shrink film: 500 - 700 VND
- Depreciation of bottles: 1,000 VND
- Labour and transportation: 1,200 VND
 - Electricity and tap water: 300 - 500 VND
Therefore, a 500 ml bottle of water will be invested from 4,000 - 4,600 VND
Time to recover capital
With the initial basic profit, investors can recover capital within 1 - 1.5 years. The time to recover capital will depend on:
- Cost of renting factories, building factories
- Cost of building water filtration lines and other expenses ...
The estimate is based on the business results of the first 1-2 years. After the capital recovery period, the market has been expanded, the level of sales can be achieved much higher than the first years.
Bottled water filter line manufactured by Viet An company, operates stably, the cost for periodic maintenance is quite low for maintenance to stabilize the output water quality, ensuring hygiene according to the QCVN 6-1: 2010 / BYT standard of Ministry of Health.
Business procedures produce PET bottled drinking water
First, investors need to register the business. If you already have a business, then register your business as drinking water, PET bottled and bottled beverages. Investors should prepare a set of documents to apply for a certificate of eligibility for food safety in the Department of Food Safety and Hygiene of the province or city directly under the Central Government.
In addition, need the following papers: Certificate of trademark registration, Certificate of finished water. Certificate of the output water, Certificate of product standards. In case the input water source is well water, it is necessary to have a permit for underground water exploitation issued by the Department of Natural Resources and Environment.
Contact us immediately
Coming to Viet An you will receive the following services:
 + Completely free consultancy with a staff of experienced in the field of water treatment will provide you with useful and practical information about the bottled water production line.
 + Using modern technology, the advanced bottled water filter line has a clear origin, we have been installed in many business establishments in many provinces across the country.
 + Receive dedicated and thoughtful service. Not only affirming the brand with the quality of technology lines but also warranty service after dedicated installation for customer satisfaction.
If you want to make your bottled water business convenient and earn high profits, please do not hesitate to contact us for the best advice and help.