Nano pure water filter line
To ensure health, the demand for users of clean water is increasing, the Nano pure water filter line is a solution that many people choose. So the water purifier market is also very vibrant.
Manufacturers are constantly releasing new versions of water filters that apply advanced water filtration technology to meet the growing needs of people. Among them, it is impossible not to mention the Nano water purifiers with many advantages such as not using electricity, not have wastewater, ...
When there are too many choices, users often fall into the situation of not knowing which type of water filter is best as well as how much the products price? the following, Viet An would like to share with you some useful information related to the problem that you are interested in!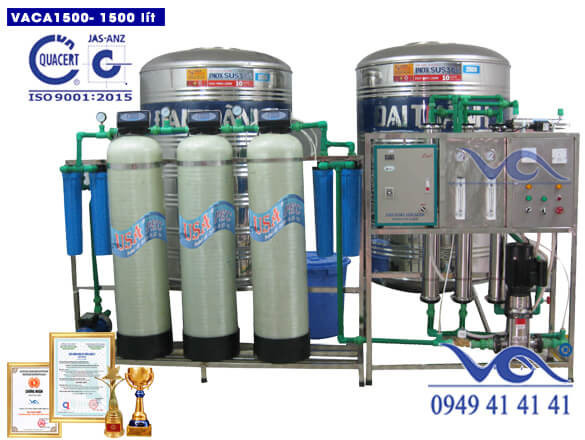 What is the Nano pure water filter line?
Nano-membranes are made of nano-silver molecules combined in activated carbon cores, or filter cores combined with other adsorbent materials (Geizer type).
Filter size: Nano-core filter hole is only about 10-100 nanometers.
Principle of producing pure water:
- Absorb metal ions because the surface contact with water of Nano filter core is coated on many magnets.
- Absorbing surface: Nano filter core keeps dirt and organic substances when water passes.
- Kill bacteria thanks to silver Nano seed
The phenomenon occurs during the operation of the Nano pure water filter line
- Because the water penetrates completely through the capillaries, after a period of time using the Nano filter will reduce the possibility of ion exchange.
- All waste will be kept on the surface of the core (more mucus appears, visible to the naked eye).
- Nano filter life is reduced.
Quality water output
- The outlet water has a high TDS (Water-soluble Solids) content, which is insignificantly reduced compared to the input water.
Filter core life:
- The lifetime of Nano filter core in low purity Nano water filter line due to residue and impurities are kept on the filter membrane, after a long time of use we can see clearly. Therefore, regular cleaning is required to ensure the quality of the output water.
Using range:
- For Nano-membrane filter, the input water source must be clean. It is widely popular in developed countries.
Why say Viet An is a reliable choice when installing Nano pure water filter line?
Viet An's water filtration line is highly appreciated by experts thanks to the automatic operation process with 304 stainless steel material which is very durable and steady with intelligent filtering technology to filter toxins, keeping minerals have advantage health. This is considered a design exclusively for water source and climate in Vietnam. The most special feature of this system is that the water after being filtered can be used directly without boiling, ensuring the water quality suggested by the Ministry of Health.
With many years of operation in the profession, Viet An Joint Stock Company has won many awards and certificates of merit such as gold medal of high-quality Vietnamese goods or golden lotus cup... Viet An's products always have preferential policies and reasonable warranty, attracting customers, being trusted by many businesses and hospitals and schools in the whole country believe in choosing.
Not only supporting the installation of water filtration lines in Ninh Thuan province, Viet An also distributes and supports the installation of water filtration lines in Quang Tri province and Khanh Hoa province and 64 provinces across the country.
Please come immediately to Viet An to be consulted and choose the best Nano purification water filter product line.
Hotline: 00949.41.41.41