Operation mechanism of the PET bottled water filter line
The operation process of PET bottled water filter line that Viet An produces ensures quality and hygienic safety.
Human activities such as sports activities, high-intensity work, work require a lot of labour, ... excessive sweating is the main causes of losing mass minerals in the body. To compensate for that mineral loss, we need to replenish our body regularly, bottled mineral water is the best and fastest solution.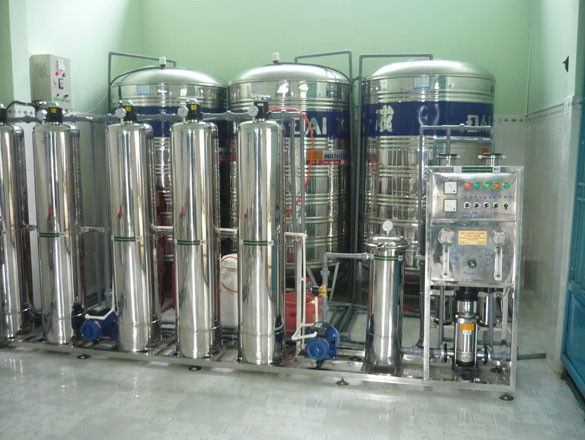 Operation mechanism of the PET bottled water filter line
Raw sediment filter: Firstly, the groundwater will be pumped into the reservoir of the source water, the compounds and metals will be treated with chemicals to remove them from the water, destroy the microorganisms in the water. If the water is turbid, has residue or suspended matter, it should be removed by coarse filtration to prevent clogging of the rear devices.
Removal of iron, manganese: Water is flowing through the filter with materials that are strong oxidizing agents to transfer iron II to iron III, after being precipitated, it will be discharged. This process also handles manganese and odour of H2S (if any). After that, the water will be further processed.
Softening, demineralization: If the water contains a lot of calcium, minerals, it is necessary to be treated through ion exchange system, which has the effect of removing positive ions (Cation): Mg2 +, Ca2 +, Fe3 +, Fe2 +, ... And those Negative Ion (Anion) such as Cl-, NO3-, NO2 -, ... Water treated through bottled water filter line will be put into the tank and continue processing.
De-color, deodorizing: Using automatic flushing filter with multiple layers of material to eliminate deodorizing and decolourize in water
Essences filtration: using RO reverse osmosis membrane. High-pressure water is pumped through a reverse osmosis membrane system.
The remaining water, containing impurities, deposits, metal ions, ... they will be discharged outside. After filtering through this system, the purified water without bacteria, viruses and minerals meeting the standards of bottled water will be stored in a closed tank.
UV sterilization and ozone technology: During storage, pure water is likely to be contaminated from the air, so it is necessary to re-sterilize it before UV sterilization. Then pass through the essences filtration system to remove bacteria.
Filling - capping: After passing all the above processes, the water is pumped into the filling system for bottling.
The outstanding function of the PET bottled water filter line
The auto valve water filter system, mechanical valve imported from the US helps to operate the automatic system completely, automatic cation reconstitution. Therefore, ensuring water quality meets TCVN 6-1: 2010 / BYT standards for PET bottled and bottled water.
The pump system is imported from Italy to ensure the entire filter line operates smoothly, low noise, high stability.
Filter materials are selected and imported from England, India, Korea, ... to ensure the standard of softening water filter before being put into RO filter membrane, helping to improve the lifespan of bottled water filter line.
The electrical system has an automatic circuit breaker, circuit protects the whole system when power cut.
Measuring equipment system: Intelligent display water quality measuring instrument to immediately check the status of the effective water flow measuring device.
Viet An Company with many years of experience in providing bottled water filter lines, we are committed to giving you the best quality products. Contact us to answer all your questions enthusiastically and most enthusiastically, with readiness to support 24/7 with professional staffs. Let's accompany with Viet An to be invested appropriately with warranty and preferential maintenance services.