PET bottled water filter line
PET bottled water filter line has been an essential device to contribute to protecting human health and life. As one of the industrial water filtration products imported and assembled by Viet An's factory according to the most modern technology of the United States. The production process according to ISO 9001-2015 standard is the most strict and elite international standard today. Line applies superior pure water filtration technology, eliminating the toxins in the water, ensuring the water meets the food safety standards 6-1-2010 / BYT of the Ministry of Health, contributing to health protection human.
Many people worry that the problem of domestic water is not hygienic, not ensuring health, therefore the PET bottle water filtration, bottle treatment, ... is a wise choice.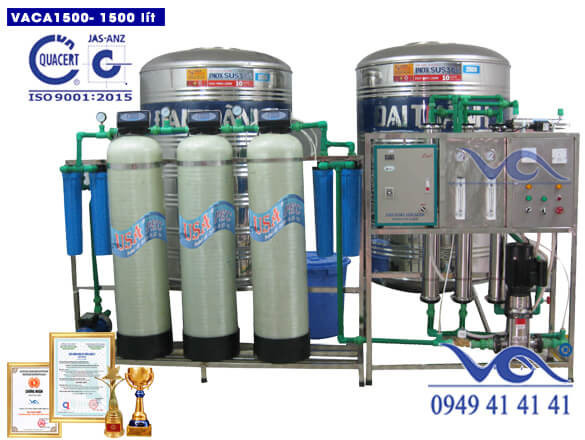 What is the highlight of the PET bottled water filter line?
With outstanding advantages is the ability to transform ordinary water into clean water, stable purified water, high capacity to meet food safety standards 6-1-2010 / BYT, combined with the ability to save water and electricity power consumption compared to water filtration lines applying old technology.
Viet An provides a wide range of industrial filter lines with a capacity of 150 L / h to 70,000 L / h for you can choose. You just invest about  30 million VND, you have the most modern pure water filter line, pure PET bottled and bottled water for use and business.
PET bottled water filter line
Advantages of Viet An bottled water filter line
Vinaro brand pure water filter line in Viet An is the only one in Vietnam assembled according to international standards ISO 9001 - 2015.
Water filter line is assembled from famous imported components from USA, Italy, Korea ... at Viet An's factory - address: Quang Minh Industrial Zone, Me Linh, Hanoi. Therefore, Viet An's products always ensure the best water filtration products on the market today.
Water filter machine is imported directly from the US and South Korea to ensure water quality meeting 6-1-2010 / BYT standards for PET bottled and bottled water.
The pump system is imported from Italy to ensure the entire filter line operates smoothly, low noise, high stability.
The system of filter materials is selected and imported from the UK, India, Ha Nam, Hungary, ... to ensure the standard of filtering softening water before being put into RO filter, helping to improve the lifespan of bottle water filtration lines.
The auto valve filter system, mechanical valve imported from the US help to operate the system automatically completely, automatic cation revert and automatic filter cleaning, thus ensuring water quality always meets ISO 9001 - 2015 standard, 6 -1-2010 / BYT standard and water with stable sweetness.
Electrical system with automatic shut-off circuit, safety watershed pump protection circuit, the circuit to protect the whole system when power cut off.
Measuring equipment system: Intelligent display water quality measuring instrument to immediately check the status, system, water flow measuring device, measure water pressure on each stage of detailed and effective filtration.
Finished water can be drunk directly without boiling.
Bottled water filter line has a diverse capacity, suitable for all subjects.
Viet An General Trading Joint Stock Company with nearly 20 years of experience in the water industry, we are a leader in providing water filtration equipment, genuine water filtration systems, Viet An is proud that we always meet all customer requirements. Whenever you encounter problems, please contact us for assistance immediately.
Price of Viet An water filter line
For your reference, Viet An listed here four main types of bottled water filtration lines:
Water filtration line using composite manual valve column material
Water filtration lines use composite auto valve column materials
Water filtration line of stainless steel 304 column material mechanical valve
Water purification line using 304 stainless steel auto valve column material
The price of each product of Viet An will vary according to the configuration you choose to install as well as the time you purchase. Each line capacity is suitable for different water users. For advice on choosing the right capacity, the fastest and most accurate quotation, please call: 0949.41.41.41
Warranty and maintenance regime at Viet An Company
- Warranty: Each PET bottled water filter line of Viet An will have 1 year warranty period. Besides, Viet An will continue to support equipment maintenance for customers in the following years.
- Incentives: Viet An always wants to bring users a clean water source to use, so the company has a lot of promotions to customers from time to time, each region. To know what incentives at the company, please contact our care department as soon as possible.
Thank you for following the article of bottled water filter line, Viet An hopes to cooperate with customers in the future.