Rainwater treatment system
With more 10 years' experience on water purification and treatment industry, Viet An would like to introduce to you a basic rainwater treatment system built according to the pure water standard used in daily life
Rainwater is a natural source of water available and popular in Vietnam. For suburban areas, households often take this water source to use in daily life activities. However, in current rainwater source also carries many potential risks harmful to human health, we need to take necessary measures to use rainwater resources safely and effectively.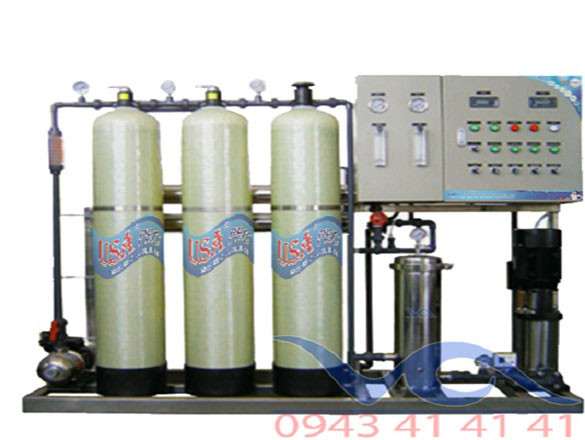 Structure of the rainwater treatment system
Principle of operation: Rainwater is stored and flowed through water purification columns to clean before being put into storage tanks or water containers.
Filter materials include:
Quartz sand, quartz gravel
Ion exchange particles
Activated carbon
Mineral rocks and rock layers to circulate the flow
Effect of rainwater filtration system
Removing scale,
Impurities, organic matter
Bacteria
Some other harmful ingredients in the water.
Advantages of the rainwater treatment system
Save on living water costs, long product usage times, popular, easy-to-find filters.
Common filter cores, easy-to-find, cheap replacement cost, cost savings.
The system is convenient, easy to use, has produced a good standard water sample.
It is a practical product, meeting the needs of people, especially in areas contaminated with alum contaminated water, scarce water.
Limiting flooding caused by large amounts of rainwater pouring directly into the road, increasing the amount of wastewater discharged into the system.
The rainwater treatment system is an effective method to treat water, providing a portion of free water for people. In areas where clean water is scarce in the dry season, this is an effective and low-cost solution that still satisfies consumer demand.
Problem with RO membrane filter of the water treatment system
RO membrane used in rainwater treatment system is one of the most commonly used filters in the world due to its ability to completely remove impurities, bacteria, ... that is not conducive to health. With a very small filter size, you can be assured of the quality of the finished water. However, in the process of operating the RO pure water purification system, it is inevitable that some incidents are as follows:
 - Finished water after being treated less than the capacity of the machine.
 - The wastewater of the system is released too much compared to the output water.
 - TDS (expulsion of water-soluble solids) exceeds the permitted level.
 - Pure water has an unpleasant odour, difficult to drink, white patches appear on the surface.
The main causes of the above phenomena in the rainwater treatment system are:
 - Filter materials such as quartz sand, activated carbon, deodorizing system, ... do not perform well the pre-filtering function, so RO membrane must work harder, subject to substandard water pressure more.
 - 304 stainless steel push head pump, valve system does not automatically stop, open to create excessive pressure, pumping too much water makes the membrane torn.
 - The simple remedy in this situation is to wash the RO membrane and replace filter materials.
The address provides the quality system, good price
Currently, on the market, there are many units providing and installing water filtration lines of all capacities as well as origin. If you are planning to buy a rainwater treatment system to serve the needs of treating domestic water quality but at a reasonable price, then Viet An is the best choice. With in-depth experience and quality assurance will surely make you satisfied.
In addition to the construction and installation of high-quality water filtration lines, we also provide many other services such as maintenance and operation of the water supply system, ...
Our company has many years of experience in the installation of rainwater treatment systems, production lines for bottled water used for dormitories or households. Please call 0949.41.41.41 for the best support.