Well water treatment system
Currently, the rate of well-treated well water in Vietnam is still little, especially in rural areas. This well water is taken from underground water circuits to serve daily needs, eating, drinking and bathing. However, if using this water directly, it will not guarantee the safety of the quality of use. Therefore, a high-quality well water treatment system is needed at this time.
Current situation of water source needs to use well water treatment system
According to the survey, well water sources often contain a lot of minerals, heavy metals, iron, arsenic, calcium and ammonium, etc. Although the naked eye does not see any signs, the process of using compound, it will cause serious consequences for the health and safety of sanitary equipment, refrigeration equipment in your family.
Well water is the main source of domestic water use in many countries and residential areas around the world. Therefore, water pollution has a great influence on the quality of the human living environment. Pollutants and degradation agents include:
Saline, alum, iron, Mn and some other metals.
Content of NO-3, NO-2, NH4 +, PO4 ... exceeds the permitted standards, polluted by microorganisms.
In industrial parks and suburbs, rural areas often use the method of treating well water by building a filtration tank according to traditional methods. This method is not effective in handling iron, manganese, heavy metals and hazardous impurities, and it is very labour intensive and uses a lot of space. Especially, it is not suitable for high-tech industrial parks near the city, and households in a small, narrow area. Moreover, due to the lack of professional knowledge, this construction is almost impossible.
Therefore, in order to meet the demand of using clean water and safe water for people, Viet An Company is pleased to introduce to you the model of high-quality water well drilling in Vietnam. This model has been carefully researched by experts, based on practical research, ensuring a highly durable model, ensuring technical expertise and being able to overcome limitations that other methods fail to achieve.
Viet An's well water treatment system includes water treatment equipment with the most advanced technology used in alum, metal, arsenic and organic water treatment systems in the water with Low cost and high efficiency, providing pure water. Viet An is currently the leading company in the treatment of drilled wells in Vietnam to create a pure water source used in daily life.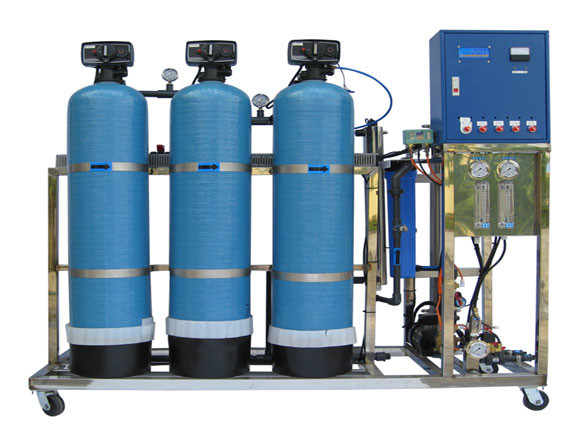 Well water treatment system
Process of the high-quality well water treatment system in Viet An
Step 1: Well water currently used by households will be pumped to the oxidation tower to remove Fe, Mn and odour in the water.
Step 2: Perform contact and flocculation then deposit all oxides after oxidation, collecting clear water to move to the next filtration step.
Step 3: Perform essence filtering process includes the following steps:
Multi-purpose filter: In here, the sand, suspended residue are completely removed.
Metal filter: With catalytic materials such as manganese sand, quartz sand specialized to remove heavy metals such as Fe, Mn, As, ... these materials act as an oxidizing catalyst to create Metal precipitation. Heavy metals will be separated from the water after oxidation and form precipitate that adheres to the surface of the filter material.
Carbon Filter: This filter will thoroughly remove water, odour and organic substances dissolved in water. After processing the basic water source becomes clean water
Step 4: The water after the filtration system will be disinfected to ensure that the treated water meets the Ministry of Health standards for living. There are basic disinfection steps as follows:
Ozone sterilization (O3)
UV rays
That is the whole process of a well water treatment system in Viet An. We are confident with this system that will bring people a clean water source to ensure and save as much as possible.
Viet An - Address of prestigious quality
Viet An Joint Stock Company is one of the pioneering units in the application of models of industrial wastewater treatment, well water filtration, domestic and hospital wastewater treatment, ... All systems This system is applied advanced technology of countries around the world.
In addition, the systems applied in Viet An are the most modern water treatment technologies so we can be ready to commit to the efficiency of the well water treatment system as well as the utility for works later on. Viet An Company has many years of experience in the field of consultancy, installation of water treatment systems, bottled water production lines with the best price in Vietnam. If you are also interested in this system and want to install it most effectively, do not hesitate to contact us at the hotline number: 0949.41.41.41