What to do to open pure water production facilities?
Do you need to opening pure water production facilities? What are you wondering to open a pure drinking water facility should do? What are the legal procedures difficult? Let's find out through the article below!
Steps to open a pure water production facilities
Factory ground
In order to open a pure drinking water production facility, you need to prepare a factory with a standard design, depending on the capacity, which will have a different ground area.
Register business license, and apply for food safety and hygiene paper
After preparing the factory, you will register your business or you can do 2 things at the same time. The first procedure for businesses and households that want to open pure water production facilities is to register business licenses with state agencies.
Installing the pure water production lines system
Depending on how much of a monthly output is sold, which choose a suitable capacity. In order to install the standard and appropriate technology line system, you can contact at Viet An Company - with many years of experience in consulting to opening the No. 1 pure water production facility in Vietnam. We will advise you from A to Z.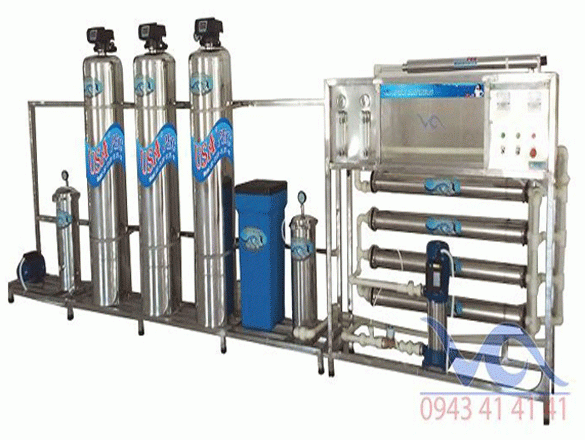 The pure water production system
  4. Testing of water source and finished water
At present, there are many water testing facilities, you can contact us for testing when installing the machine or we will support you after installing the machine.
There are 2 options for choosing drinking water input. It is tap water and well water. The tap water source is a guaranteed water source provided by the state so it is completely assured. As for water from drilled wells, each place has different quality water, so it is imperative to test and give standard evaluation criteria.
When participating in the business of pure drinking water that brings success, there are many factors that people should pay attention to.
 Risks to avoid when opening pure water production facilities
+ It is recommended to use modern technology to produce a qualified and quality water source to meet the increasingly fastidious demands of consumers.
+ Should choose the lines with flexibility, easy to upgrade, increase productivity, meet market demand in the peak months like summer and avoid waste in the low months like winter.
+ Open pure water production facilities, therefore, investing in modern and quality equipment to maintain a stable operating system.
+ Because of purified water is a health-related product, so when trading, you should invest in quality-oriented products to create credibility for users and avoid penalties of health authorities during the test's food hygiene and safety inspection.
+ The area for filling products must be closed, separate from other areas and equipped with air sterilization system.
+ Sterilization, disinfection of products, disinfection of packaging by specialized equipment using ultraviolet ray technology, ozone technology and other technologies but not affecting product quality and safety products.
 You will receive when coming to Viet An
Advise customers to build factories in accordance with the regulations of the Ministry of Health.
Advise customers to choose the appropriate capacity level with the purchasing of the market, the objectives consistent with the investment capital of the business owner.
Guiding customers about the process and paperwork to make the records to meet the standards: Establishments qualified for food hygiene and safety, ... Support, design consultancy labels, brands for products PET bottled and bottled water products.
Analyzing the source water sample is before filtered to see the real water state? Iron infection, manganese, calcium infection, ...
Proposing the plan to implement thorough treatment. Each water source needs to have different treatment methods, using different filter materials, avoiding improper handling, not thoroughly avoiding the case that money is still lost, diseases still have
As above is the information needed to open pure water production facilities when entrepreneurs want to do business in this area. Hopefully, after consulting this article, customers will accompany Viet An Company to have the right choice and can invest in the most appropriate and accurate way. Viet An would like to thank! In addition, Viet An also provides pure industrial ice making machine, filling machine, bottle blowing machine! If you have demand for any products of Viet An. Please contact us immediately for the best advice!